Surgeon operates on boy, then sews up his teddy bear
Halifax-based neurosurgeon Daniel McNeely repairs a child's teddy bear while the patient was recovering from surgery in a handout photo. (THE CANADIAN PRESS/HO-Mosaab Alsuwaihel)
HALIFAX -- A Halifax neurosurgeon has performed a career first, after a young patient asked him to stitch up a beloved teddy bear while the boy recovered from surgery.
Like many of Dr. Daniel McNeely's patients, eight-year-old Jackson McKie -- who he's looked after since he was an infant -- brought a stuffed toy to the operating room with him last Thursday.

McNeely said he couldn't say no when the boy asked him to fix a tear in his fluffy friend right before his surgery.
"I thought if there was something I could do to help make him feel better, it seemed like a simple gesture and I was only too happy to oblige," McNeely said Tuesday.

The doctor asked the nurses to prepare a small table with some tools, and he used leftover stitches from McKie's procedure to patch up the bear, Little Baby.
A medical resident at Halifax's IWK Health Centre snapped a photo of the heartwarming moment.

Little Baby's operation was McNeely's first on a toy -- and he decided to share the photos as his first-ever tweet.
McNeely posted the photos to his Twitter feed, writing "Patient asks if I can also fix teddy bear just before being put off to sleep ... how could I say no?"
As of Tuesday morning, the tweet had been retweeted more than 5,000 times and garnered more than 150 responses from people around the world, including his former residents, commenting on the kind gesture.
"I thought it might make a few people smile, that was the only intention I had," said McNeely. "I'm glad that others are enjoying it."

McNeely said McKie is recovering well at home, and his family has printed a photo of the extra-special operation.
McNeely was happy to reunite the boy with his stuffed animal, and said the small gesture was one example of how health care providers can care and comfort their patients in non-medical ways


[ltr]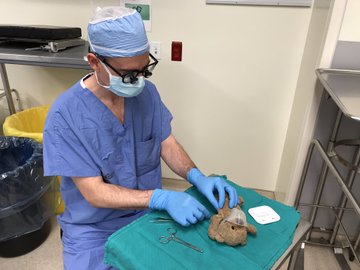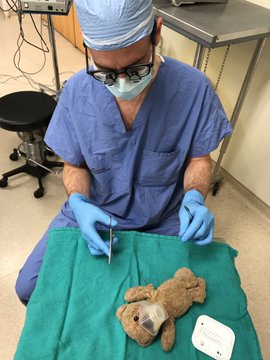 [/ltr]
P. Daniel McNeely

@pdmcneely

[ltr]Patient asks if I can also fix teddy bear just before being put off to sleep... how could I say no?[/ltr]

8:10 AM - Sep 30, 2018
_________________


8DonCo





So sweet!
_________________
Nếu ai hỏi vì sao yêu màu tím
Tôi trả lời vì tím rất thuỷ chung


Wenn




Location

: Nơi Bình Yên Chim Hót



Vài bửa nửa nhận được 2 cái bills: 1 cái mổ thằng nhóc & 1 cái và teddy bear! Giống như cái vụ ông BS kia hỏi bà má có muốn ổng pierce ear cho con gái bả while she's under anesthia rồi sau đó gửi cái bill mấy ngàn cho vụ sỏ lỗ tai!


ga10





Chắc chiện này hong đến nổi đâu, chắc ổng làm giùm
_________________
Nếu ai hỏi vì sao yêu màu tím
Tôi trả lời vì tím rất thuỷ chung


Wenn




Location

: Nơi Bình Yên Chim Hót



_________________


8DonCo





---
Permissions in this forum:
You
cannot
reply to topics in this forum