chị làm biếng làm để mấy tháng ..tính thôi không làm lại mà mở ra thấy con Kombucha chà bá, trắng trẻo đẹp gái chị đậy nấp lại đợi Thứ Bảy này làm lại batch mới
nó giày mà kiếm gần hết 1/2 cái lọ luôn ..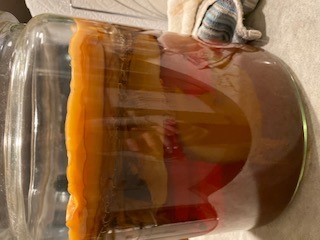 nhatrangdep





Family em uống gần 1 năm nay rồi chị. Em and OX uống everyday and we love it. But , sometimes we have to stop for couple days tại bị bloating (too much acid in our stomach), nhưng em and OX uống thấy có more energy đó chị


KatN





By the way. Em cám ơn chị Đẹp introduced cái Kombucha nheng. Nhờ chị Đẹp posted mà em research and follow through to drink it since


KatN





you're welcome Kat ...chị cũng bắt đầu làm lại ...để 1 gốc mà nó lên quá tro+ì ..nưo+c' này đem làm giấm được gùi ..


nhatrangdep





---
Permissions in this forum:
You
cannot
reply to topics in this forum