First time do it, yummy , so good
Jajangmyeon (Noodles in Black Bean Sauce)
Jajangmyeon (noodles in a black bean sauce) is a popular Korean-Chinese dish. Learn how to make jajangmyeon at home with this easy to follow, delicious recipe!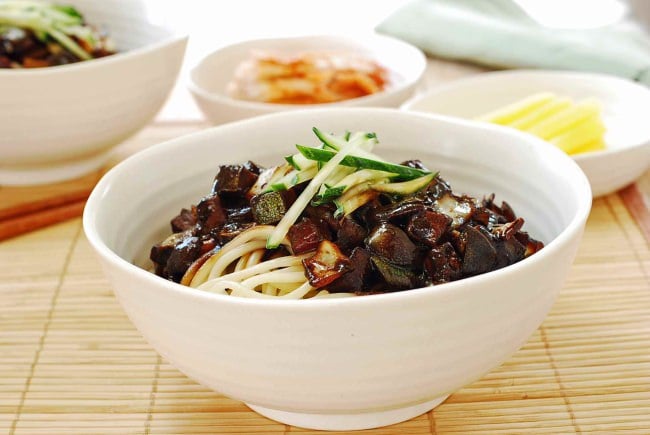 As mentioned in my last post on jjambbong (spicy noodle soup), this sweet and savory noodle dish, jajangmyeon (also spelled jjajangmyeon or jjajangmyun), is another popular Korean-Chinese noodle dish. In fact, it's a huge part of Korean food culture. Everyone loves it!
 
Deeply embedded in the childhood memories of most Koreans, jajangmyeon is a dish that parents often treat their children with on special occasions, such as graduation, exam days, birthdays, etc. In recent years, jajangmyeon has become a symbolic dish that single people eat with their friends on Black Day to commiserate with each other over black noodles.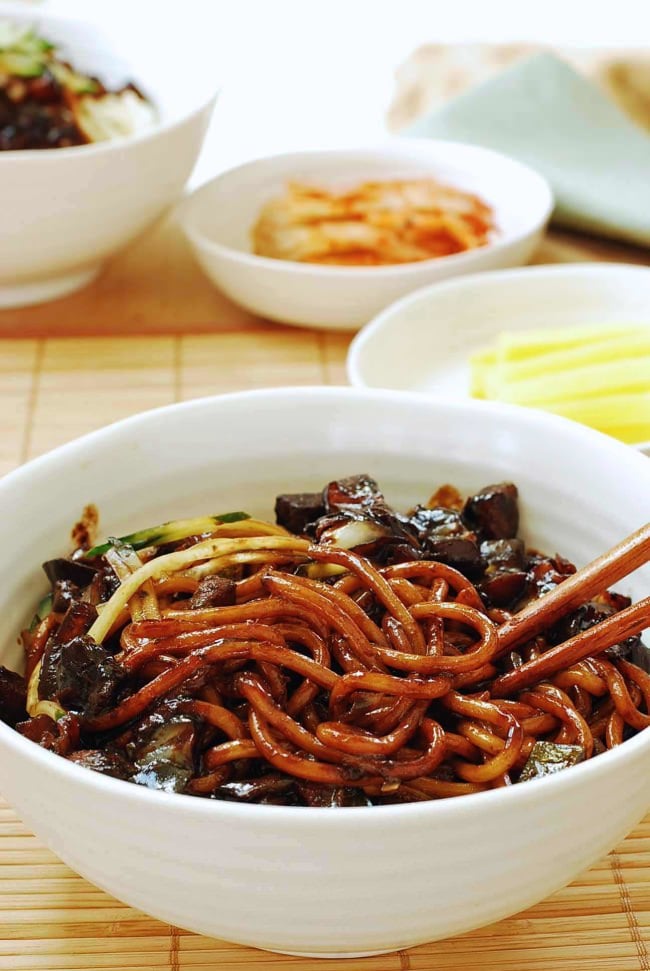 Jajangmyeon sauce
If you have the Korean black bean paste called chunjang (춘장), this dish is very easy to make at home. The black bean paste is first fried in oil. This process helps remove the bitter taste of the bean paste. The fried (or roasted) black bean paste is called jjajang (짜장). You can buy either one from most Korean markets. To balance out the bitterness and saltiness of the black bean paste, it's important to add a little bit of sugar.
Pork is the classic option for the meat, but of course you can substitute it with any meat or seafood. Typically, jajangmyeon includes vegetables such as onion, cabbage, zucchini, and potato. In this jajangmyeon recipe, I used good chicken stock to give the sauce extra flavor, but water is fine too.
Jajangmyeon noodles
Traditionally, restaurants use hand-pulled noodles, which are nicely chewy. For home cooking, you can find ready-made fresh noodles in the refrigerator section of Korean markets, or use dried noodles. These noodles are generally labeled for udon and jajangmyeon (우동 짜장면) or jungwhamyeon (중화면).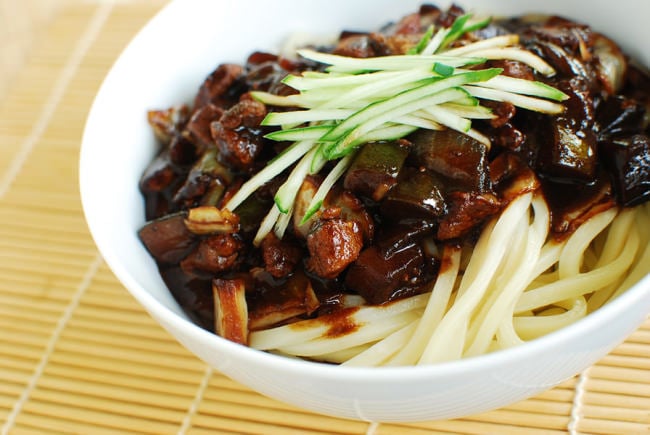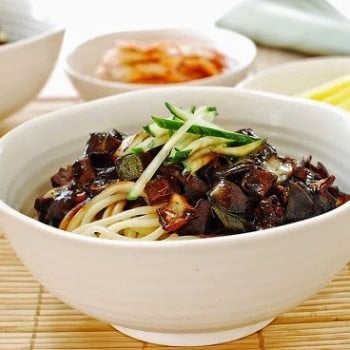 Jajangmyeon (noodles in a black bean sauce)
4.52 from 76 votes
Main Course
Prep Time: 15 
minutes
Cook Time: 15 
minutes
Total Time: 30 
minutes
Servings: 
2
 Print Recipe
Ingredients



12 – 14 ounces fresh jajangmyeon/udon noodles




5 tablespoons Korean black bean paste chunjang or jjajang




2 tablespoons oil canola or vegetable oil




1 tablespoon sugar




1 tablespoon oyster sauce optional




4 ounces pork loin




1 tablespoon rice wine or mirin




1/2 teaspoon grated ginger




salt and pepper




1 large onion 4 ounces cabbage




1/2 zucchini about 4 ounces




1 tablespoon oil canola or vegetable oil




cucumber matchsticks for garnish optional




1 cup chicken stock or water




1 tablespoon potato or corn starch* dissolved in 1/4 cup of water



Instructions



Have a pot of water ready to cook the noodles. Turn the heat on when you start cooking the meat. This way you will have the boiling water ready, for cooking the noodles, by the time the sauce is done.



Prepare the pork and vegetables by cutting them into 1/2 - 3/4 inch cubes. Marinate the pork with a tablespoon of rice wine (or mirin), ginger, salt and pepper while preparing the vegetables.

Add the black bean paste to a small saucepan with the oil, sugar, and the optional oyster sauce. Fry it over medium heat for 2 - 3 minutes, stirring constantly. (If using pre-fried/roasted black bean paste, you can skip this process. Just add the sugar and the optional oyster sauce when stirring in the bean paste.)

Heat a large pan with a tablespoon of oil over medium high heat. Add the pork and stir fry until no longer pink. Add the vegetables and cook until soft, stirring occasionally.

Stir in the black bean paste and mix everything together until all the meat and vegetables are coated well with the paste.


Add the noodles in the boiling water. Cook according to the package instructions and drain. Do not overcook. The noodles should have a firm bite to them. Place a serving size of noodles in each bowl. Spoon the sauce over the noodles and garnish with the optional cucumber matchsticks.



https://www.koreanbapsang.com/jajangmyeon-noodles-in-black-bean-sauce/
_________________


8DonCo





Looks good. Finding the black bean paste is not easy. there are no Korean store around.


beGUN





Bác 8 làm theo cái recipe đó có dể 0?


ga10





ga10 wrote:Bác 8 làm theo cái recipe đó có dể 0?
yes, theo cái đó
dễ và  nhanh nhưng tui xài thịt bằm
_________________


8DonCo





Nhà tui còn dư 3 vắt mì giống như trong hình của Bác posted above. Bây giờ mà nhờ OX đi mua ingredients về làm chắc ảnh la làng quá!


ga10





Sauce đen nhiều vậy có măn ko? Nếu ko mặn quá, bữa nào tui làm thử. Sao càng ngày tui càng ăn nhạt.
Hồi ở Kualar Lumpur , vc bạn Mã Lai dẫn đi ăn mì local, mì cũng có màu đậm đen như vậy mà nó ngọt & mặn gắt, ko hợp khẩu vị cũng phải ráng ăn kẻo họ buồn


DocThatKinh





Giỏi quá anh 8


dakao2




Location

: TX



DocThatKinh wrote:Sauce đen nhiều vậy có măn ko?  Nếu ko mặn quá, bữa nào tui làm thử.  Sao càng ngày tui càng ăn nhạt.  

Hồi ở Kualar Lumpur , vc bạn Mã Lai dẫn đi ăn mì local,  mì cũng có màu đậm đen như vậy mà nó  ngọt & mặn gắt, ko hợp khẩu vị cũng phải ráng ăn kẻo họ buồn
đen thôi chớ mặn lạt do mình nêm, no đâu có muối mà mặn
_________________


8DonCo





Toad con cũng mê món mì tương đen này lắm nè


Toad





---
Permissions in this forum:
You
cannot
reply to topics in this forum