Powerful storm system will drop more than a foot of snow in some parts of the Northeast
A major storm is set to bring heavy snow to the Northeast and a dangerous wintry mix farther south Wednesday -- and could slam New York City with the most snow it's seen from a storm in more than four years.
More than 70 million people were under a winter storm warning or advisory from northern Georgia to Maine, covering Wednesday and Thursday.
Freezing rain was falling in North Carolina and snow was collecting from Ohio into northern Virginia. But the largest snowfall is expected to hit parts of the Mid-Atlantic and Northeast from late morning into the afternoon and evening:
• Washington, DC: Expect under 2 inches of snow, along with rain, freezing rain and sleet.
• Philadelphia: 3-6 inches of snow are possible Wednesday afternoon, with a rain and snow mix coming at night.
• New York City: Generally 10 to 16 inches of snow are possible into Thursday morning. A foot or more would be the city's most snow from one storm since it was walloped with more than 2 feet in late January 2016.
• Boston: 8-12 inches could fall in the city -- and up to 18 inches west of town -- from Wednesday night into Thursday.
And the heaviest snow could come in parts of central Pennsylvania and northern New Jersey, where up to 2 feet could collect.
"This will likely lead to very dangerous, if not impossible travel conditions and isolated power outages," the National Weather Service said.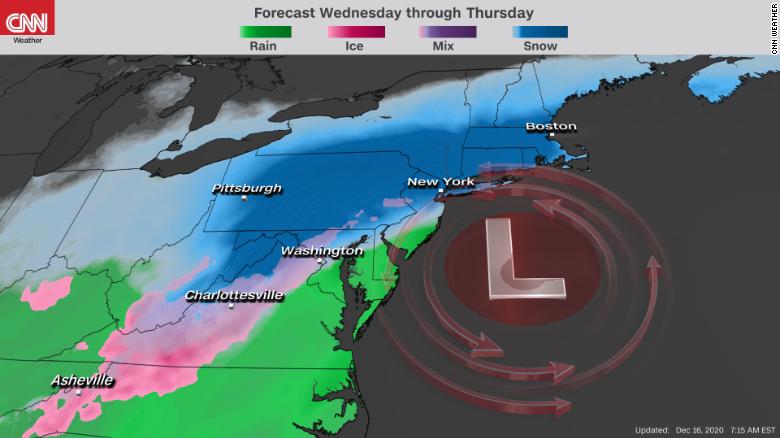 Track the storm's path >>>
_________________


8DonCo





you know who to blame 
_________________


8DonCo





8DonCo wrote:you know who to blame 
Ai kêu tui đó?
Ở vùng tui last weekend họ predicted 6-10 inches today. Nhưng rồi sáng nay chỉ còn có 1 inch thôi. Tuy nhiên bị freezing rain thì coi như đường cũng icy.
Further West thì nghe nói có thể bị nhiều hơn cho nên hôm qua trường học đả announced đóng cửa.


ga10





bên tui nghe nói 9 PM tonight bắt đầu, cho tới sang Thursday luôn . Xong Saturday có thê? tiếp . Tui sợ quá đi chợ mua cho 1 đóng đồ ăn . Nhiều lúc tui đi chợ về OX tui cứ nói không cần trử đồ nhiều vậy đâu, thời đại bây giờ đừng lo chuyện đồ ăn quá .



Rice





---
Permissions in this forum:
You
cannot
reply to topics in this forum