California is entering the COVID-19 vaccination lottery trend with the biggest contest yet.
Ten vaccinated residents will have the chance to win $1.5 million each, Gov. Gavin Newsom announced Thursday. The winners of the $15 million worth of cash prizes will be selected on June 15 -- the same day when the state plans to fully reopen its economy.
The grand prize is part of a $116.5 million vaccine incentive program for vaccinated Californians.
A $50,000 cash prize will also be awarded to 30 residents. The announcement of those winners will be evenly split across June 4 and June 11.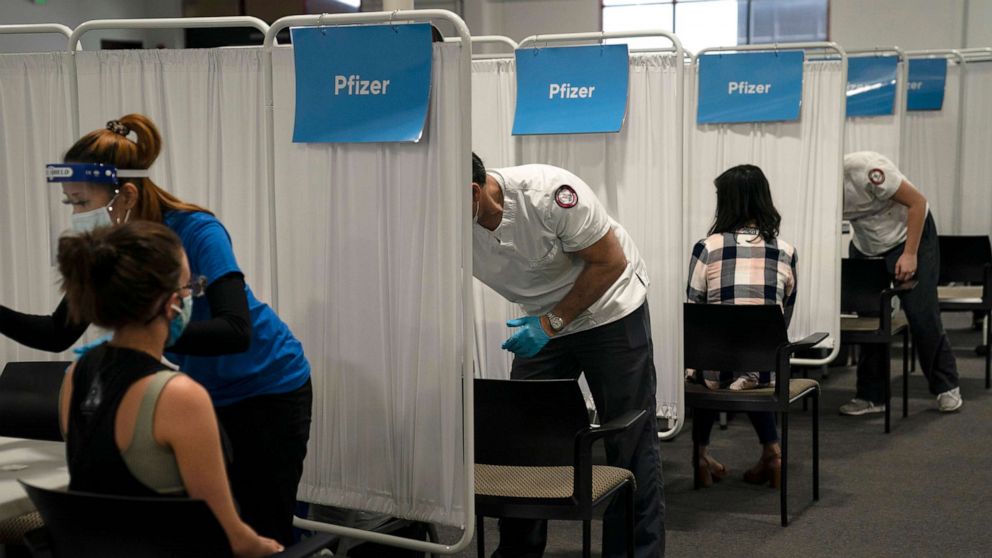 [size=12]Jae C. Hong/AP, FILE
Student nurse Dario Gomez, center, disinfects a chair after administering the Pfizer COVID-19 va...

[/size]
Read More
Both contests are open to residents ages 12 and up with at least one dose of the COVID-19 vaccine. For minors who win, the cash will be put in a savings account for them until they turn 18. All Californians who have had at least one COVID-19 dose will automatically be entered to win both contests, the state said. The prize will be awarded once the winner has completed their vaccination series.
The state is also offering incentives to newly vaccinated residents. As of Thursday, the next 2 million people who begin and then complete their COVID-19 vaccination will automatically be eligible to receive a $50 virtual prepaid card or a $50 grocery gift card for select locations, while supplies last. Newsom said he hopes for the state to fully distribute those winnings by June 15.
MORE: This is why vaccine lottery prizes may work for some, according to psychology experts
"These are real incentives," Newsom said during a press briefing Thursday announcing the program. "These are an opportunity to say thank you to those not only seeking to get vaccinated as we move forward, but also those that have been vaccinated since we first availed those opportunities a number of months ago."
Newsom planned to make the vaccine incentive announcement Wednesday, but delayed it following a mass shooting in San Jose that morning.
_________________


8DonCo





1 tuần nửa tui sang CA thăm ông anh vậy tui ghi tên chích thêm COVID nửa lấy cơ hội win lottery luôn! Thay vì chích 2 mũi thôi thì chích thêm 1 mũi nửa để dành cho năm sau!


ga10





Vậy là 4 tây tháng 6 mình sẽ trúng 1 triệu rưỡi U Ết Đô La ...
Oh mah mu là ... Oh là la con lạc đà ...đầy mu là
_________________
LOCK CHUMP UP !

HEY CHUMP! YOU'RE FIRED

CHUMP AKA THE BIG LIE


Tu* Khoai





---
Permissions in this forum:
You
cannot
reply to topics in this forum