New Yorkers have a surprise gift to look forward to for this Independence Day: a second Statue of Liberty sent by France. This new bronze statue, nicknamed the "little sister," is one-sixteenth the size of the world-famous one that stands on Liberty Island. On Monday, during a special ceremony, the smaller sibling was lifted and loaded into a special container at the National Museum of Arts and Crafts (CNAM) in central Paris, where it has been installed since 2011 in the museum's garden. It will be erected on Ellis Island, just across the water from the original, from July 1 to July 5.
The statue, over 450 kilograms (992 pounds) in weight and just shy of 10 feet tall, was first made in 2009. It is an exact replica of the original 1878 plaster model preserved by CNAM.
"The statue symbolizes freedom and the light around all the world," said Olivier Faron, general administrator of the CNAM. "We want to send a very simple message: Our friendship with the United States is very important, particularly at this moment. We have to conserve and defend our friendship."



What should our monuments of the future look like?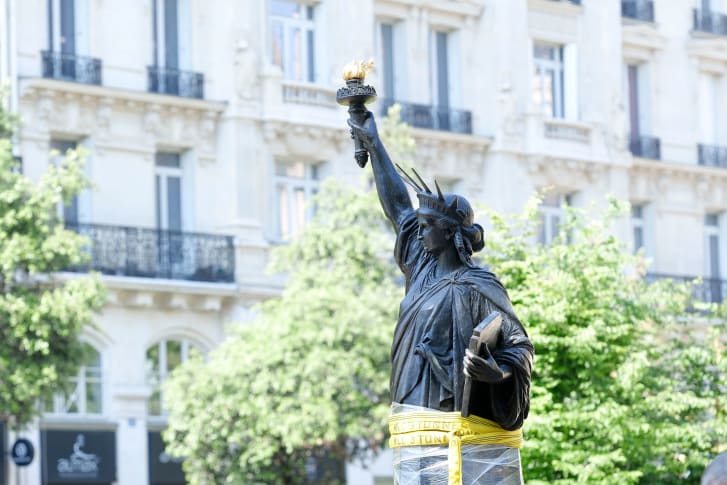 The 9-foot, bronze statue will be displayed on Ellis Island on Independence Day. Credit: CMA CGM Group
The replica bears the same neoclassic design as its "big sister" in New York, who represents the Roman goddess Libertas and measures 151 feet tall atop the giant pedestal. She is imbued with symbolism: the crown with seven spikes, representing sun rays extending out to the world; a tablet inscribed with America's date of independence in Roman numerals; and broken chains and shackles lying at its left foot, 

signifying the abolition of slavery

 in the United States.
The date of the ceremony was symbolic as well, held just after the 77th anniversary of D-Day during World War II, when American and other Allied soldiers landed on French soil in 1944, marking the beginning of the liberation of Western Europe from Nazi occupation.
The iconic Statue of Liberty that arrived in New York in 1886 was also meant to strengthen the Franco-American friendship, at a time when Paris and Washington were slowly drifting apart, as French historian André Kaspi reminded in a speech during the ceremony.
After Independance Day, it will be installed outside the French Ambassador's residence in Washington, D.C. on Bastille Day -- July 14. Credit: CMA CGM Group
_________________


8DonCo





---
Permissions in this forum:
You
cannot
reply to topics in this forum