Cuba protests: Arrests after thousands rally against government
Dozens of people have been arrested in Cuba after thousands joined the biggest protests for decades against the island's Communist government, media and opposition sources say.
Cubans have been angered by the collapse of the economy, food and medicine shortages, price hikes and the government's handling of Covid-19.
The protests are significant as critics face harsh punishment for dissent.
The island's president called for his supporters to "fight" the protesters.
One of those at Sunday's protests, named only as Alejandro, told BBC Mundo: "There is no food, no medicine, there is no freedom. They do not let us live."
Protesters shouted "freedom" and "down with the dictatorship" in demonstrations across Cuba, including the capital Havana.
"We are not afraid. We want change, we do not want any more dictatorship," an unnamed protester in San Antonio told the BBC.
Anti-government protesters were arrested by security forces who were assisted by plain clothes officers, Reuters news agency reports. Images on social media showed what appeared to be security forces detaining, beating and pepper-spraying some of the protesters.
There were reports of internet blackouts across the island and a photographer with Associated Press was injured after a confrontation with security forces.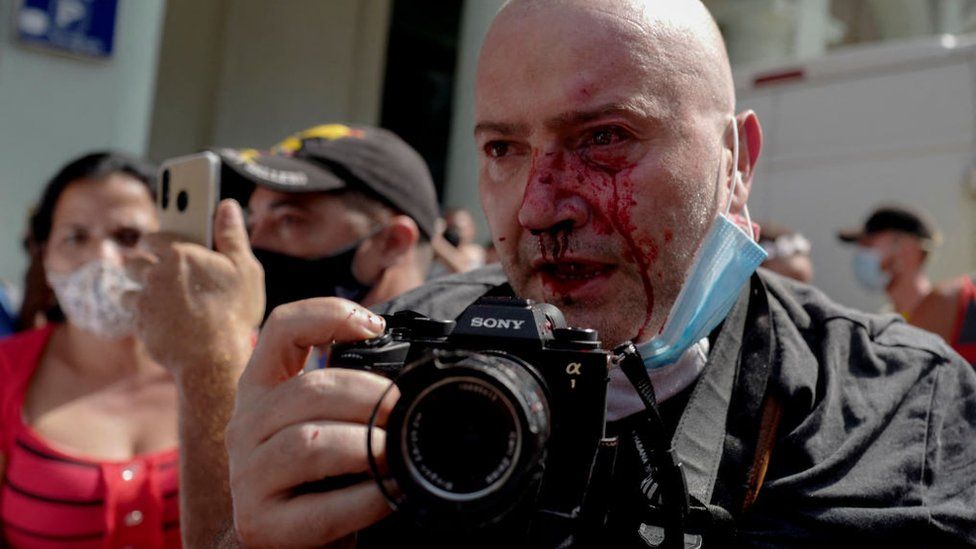 IMAGE COPYRIGHTGETTY IMAGES
image captionRamón Espinosa, a photographer with AP news agency was injured while covering the protests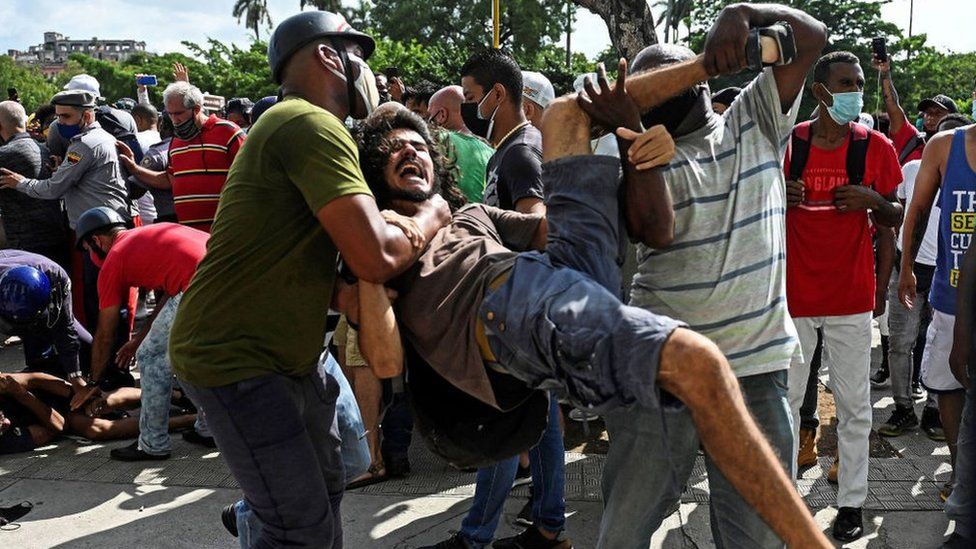 IMAGE COPYRIGHTGETTY IMAGES
image captionSecurity forces detained people who took part in the demonstrations
In response to the rare unrest, President Miguel Díaz-Canel addressed the nation in a TV broadcast and blamed the US for the turmoil. He called its tight sanctions on Cuba - which have been in place in various forms since 1962 - a "policy of economic suffocation".
Mr Díaz-Canel said the protesters were mercenaries hired by the US to destabilise the country, and called for his supporters to go out and defend the revolution - referring to the 1959 uprising which ushered in Communist rule.
"The order to fight has been given - into the street, revolutionaries!" he announced.
The top US diplomat for Latin America, Julie Chung, tweeted: "We are deeply concerned by 'calls to combat' in Cuba."
The US - which has a decades-old history of hostilities with Cuba - has said it stands with Cubans, and called on those in government to refrain from violence and listen to its people.
"The Cuban people are bravely asserting fundamental and universal rights," US President Joe Biden said in a statement.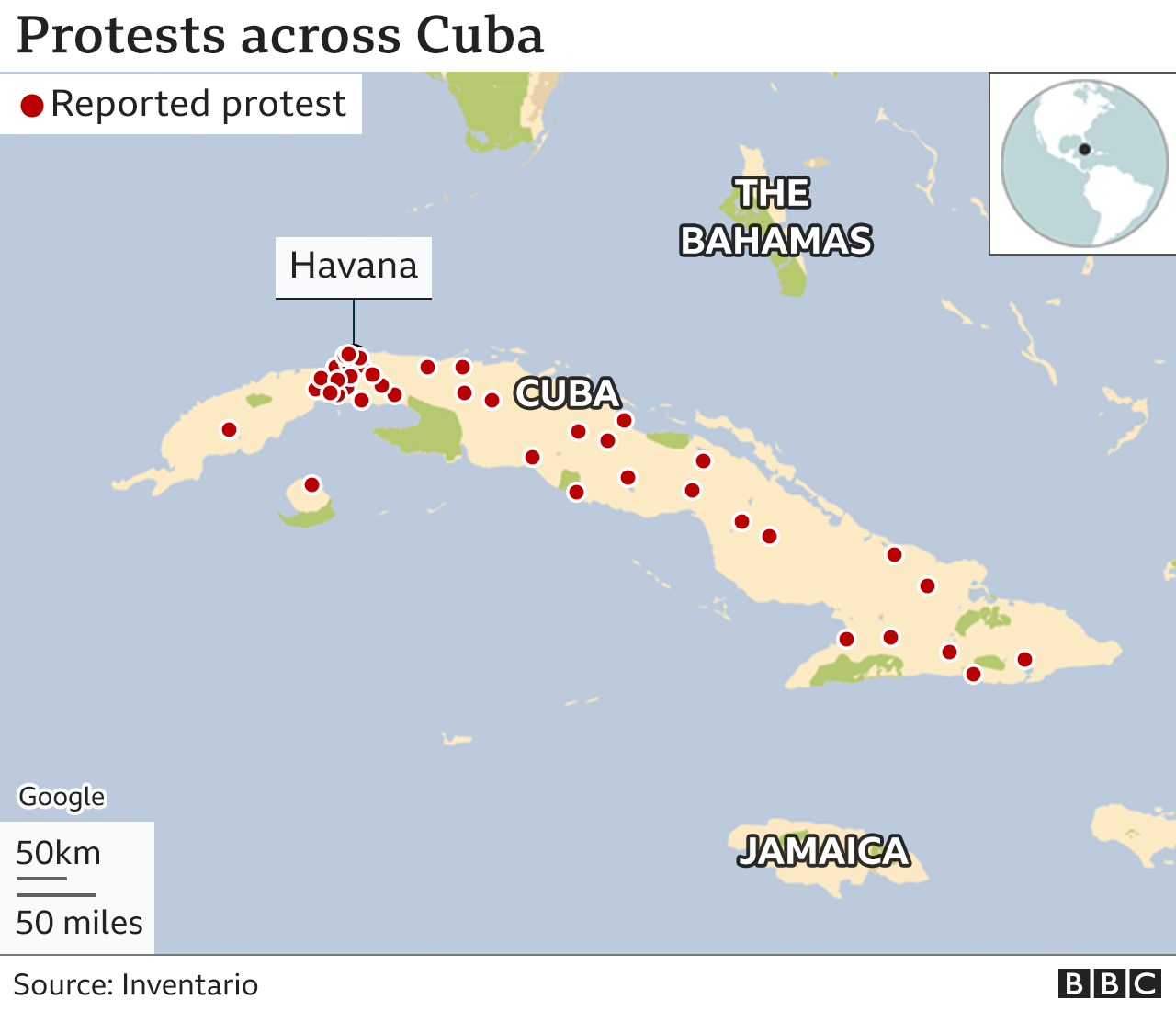 Looted shops
The anti-government protests began with a demonstration in the city of San Antonio de los Baños, south-west of Havana, but soon spread throughout the country.
Many were broadcast live on social networks, which showed marchers shouting slogans against the government and the president, and calling for change.
Posts on social media showed people overturning police cars and looting some state-owned shops which price their goods in foreign currencies. For many Cubans, these shops are the only way they can buy basic necessities but prices are high.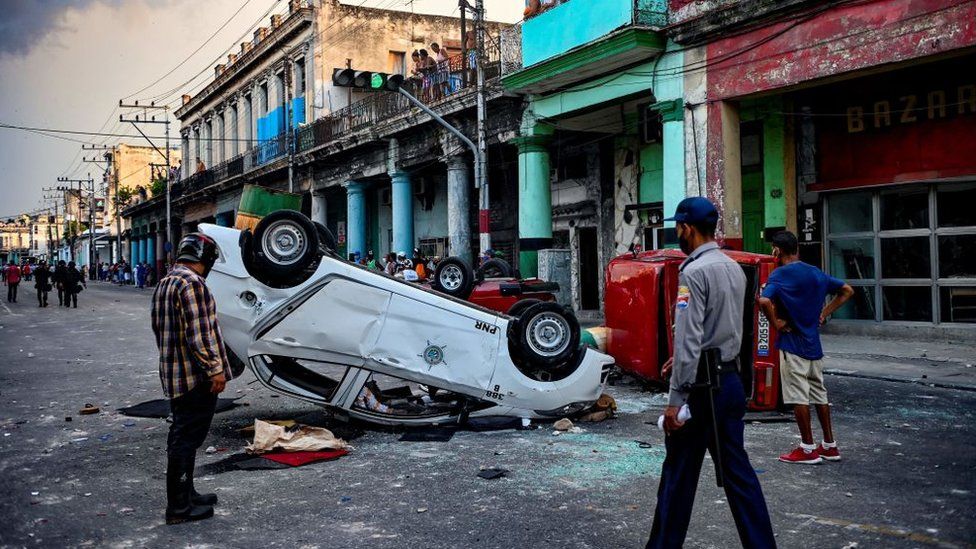 IMAGE COPYRIGHTGETTY IMAGES
image captionSome protesters targeted police vehicles and state-owned shops

Analysis - protests show growing anger
By Vanessa Buschschluter, Latin America and Caribbean editor, BBC News Online
While the crowds of protesters do not look particularly large, the significance of thousands of Cubans taking to the streets across the country can hardly be overstated.
Shouting "Freedom!" and "Down with Communism!" may be considered tame in other parts of the world, but doing so on the tightly controlled Communist-run island can easily land you in jail.
The fact that people are daring to do so in small towns where they can be easily identified by the Communist authorities shows the levels of anger fuelling these protests.
And with protesters live-streaming footage on social media sites, the government is finding it hard to hide evidence of the discontent.
A video uploaded by the Cuban foreign minister showing government loyalists marching and shouting "These streets belong to Fidel [Castro, the late Cuban revolutionary leader]" was quickly countered by government critics sharing footage of the protests.

Cuba's economy is struggling. Tourism, one of the most important sectors, has been devastated by the restrictions on travel during the Covid pandemic.
Sugar, which is mostly exported, is another key earner for Cuba. But this year's harvest has been much worse than expected.
Cuba's sugar monopoly, Azcuba, said the shortfall was to blame on a number of factors, including a lack of fuel and the breakdown of machinery which made bringing in the harvest difficult, as well as natural factors such as humidity in the fields.
As a result, the government's reserves of foreign currency are depleted, meaning it cannot buy in imported goods to supplement shortages, as it would normally do.
_________________


8DonCo





Cô Vi xúi dân nôi loạn ???
_________________


8DonCo







Lút





Dân Cuba nổi loạn lên dẹp cộng sản xong thì Việt cộng cũng sẽ bị dân dẹp luôn . Cu Ba mà thức thì Việt nam cũng không .....ngủ yên .. Lúc này thì hồn ai nấy giữ chớ không có chuyện ..."giữ wà bình cho nhao" kakakakakk
_________________
LOCK CHUMP UP !

HEY CHUMP! YOU'RE FIRED

CHUMP AKA THE BIG LIE


Tu* Khoai





VC cũng teo, dân mà đói thi nó làm liều như Cuba thôi, hãy móc tiền ra cho nó ăn để nó sống ngáp ngáp qua ngày
_________________


8DonCo





V+ cũng thuộc bài lắm. Để dân thiếu ăn thì không còn sức kháng cự. Để dân đói quá sẽ làm liều. Mềm nắn rắn buông.



Lút





Similar topics
---
Permissions in this forum:
You
cannot
reply to topics in this forum