As of Saturday, 575 patients are waiting for a general bed in hospitals in the Houston area. Eighty-seven patients are waiting for an intensive care unit beds.
Hospital officials in Houston said last week that area hospitals with beds had insufficient numbers of nurses to serve them.
Nurses the state was going to surge to the area have yet to arrive, more than two weeks after they were promised.
Gov. Greg Abbott appealed for out-of-state help to fight the third wave of COVID-19 in Texas while two more of the state's largest school districts announced mask mandates in defiance of the governor last week.
As of Saturday, there are 3.3M confirmed cases of COVID-19 and there have been 54,289 deaths, according to data from Johns Hopkins University. 46.33% of Texans have been fully vaccinated.
_________________


8DonCo





ghê quá . Nghe vừa sợ vừa lo


TuTu





lại thêm 1 thằng cha như FL. Tại sao không nghĩ prevention trước . Masks proven to help mà cứ đi phản khoa học . Chắc vợ cha này với vợ cha FL mua stocks của mấy hãng chế thuốc trị covid chứ không mua stocks của Pfizer or Moderna


Rice





cái thằng cha ở FL chắc là chơi politic cho nguòi ta đi du lịch thoai' mái đem $ vô cho tiểu bang , voi lại chắc lấy lòng dân chống mask .

xưa tutu có cảm tình cha Abbot. giờ hết rồi .


TuTu





chi Rice nghĩ CDC should be strong and firm to require mask mandate trong lúc có Delta variant ?


TuTu





TuTu wrote:chi Rice nghĩ CDC should be strong and firm to require mask mandate trong lúc có Delta variant ?
Cũng tại CDC tào lao,  mới chích ngừa 20% bày đặt không cần mask nếu chích 2 mũi và không sợ virus nào hết,  giờ con Delta nó giập te tua
_________________


8DonCo





Hãng chôm chôm họ cũng require masks trở lại rồi.


chôm chôm





không ngờ.......hãng của tech schedule for people going back to the office. Nhưng bây giờ họ delayed untill OCT.

hmmmm........
_________________
Love This Backhand & Backhand Slice


tech





Texas requests five mortuary trailers during Covid-19 surge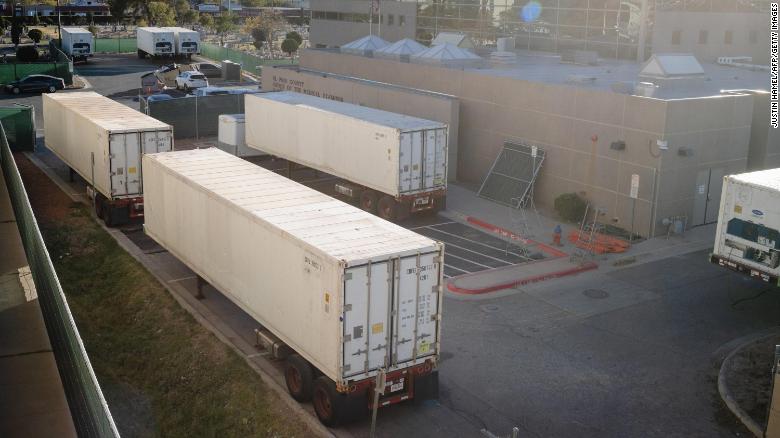 Refrigerated trailers serve as makeshift morgues in El Paso, Texas, in November 2020.
(CNN)Five mortuary trailers have been requested by the health services department in Texas, which is seeing a surge in Covid-19 cases and, along with Florida, leads the nation in pediatric hospitalizations.
The Texas Department of State Health Services (DSHS) submitted a request for the trailers following a review of state data on fatalities, according to spokesman Douglas Loveday.
The request was submitted August 4 as "a normal part of preparedness to have these available to support local jurisdictions in case they need them," he said.
"The trailers aren't for San Antonio specifically but will be staged there, as that is our staging location for these resources since it is centrally located and where we have space to store them," Loveday said.


Loveday said the trailers were requested after a review of Texas data on fatalities and the increase of fatalities during the state's third Covid-19 wave of the pandemic.

On Tuesday, there were 327 ICU beds available in Texas and 11,791 lab-confirmed Covid-19 patients in hospitals throughout the state, according to state health data.
The state had 53,100 fatalities as of Monday.
Texas Gov. Greg Abbott has opposed mask mandates and issued an executive order banning school districts from requiring masks, which has caused backlash from educators and local leaders.
[/size][/size]

Texas had the most pediatric hospitalizations in the nation, at 239, according to the latest data released Monday by the US Department of Health and Human Services. Florida had 170 children in hospitals with Covid-19.
_________________


8DonCo





---
Permissions in this forum:
You
cannot
reply to topics in this forum