Hurricane Ida strengthens into Category 4 storm as it nears Gulf Coast landfall
Hurricane Ida became a Category 4 storm early Sunday morning, rapidly intensifying to sustained winds of 150 mph, according to the National Hurricane Center.
That's just 7 mph from making Ida a Category 5 storm. It was 60 miles south of the mouth of the Mississippi River, NHC forecasters said in a 7 a.m. ET update, as the storm continued its march toward Louisiana and the Gulf Coast at 15 mph.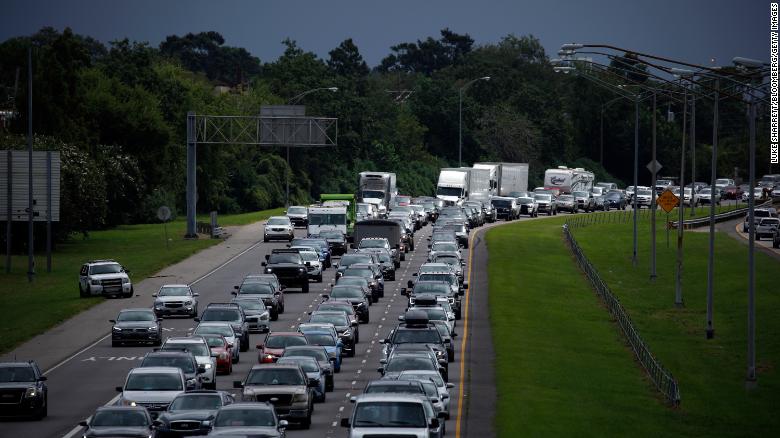 Motorists sit in traffic on I-10 West while evacuating ahead of Hurricane Ida in Metairie, Louisiana, U.S., on Saturday, Aug. 28.
The hurricane has quickly increased in intensity since striking Cuba on Friday, threatening to be an "extremely dangerous major hurricane" when it makes its projected landfall along the Louisiana coast Sunday afternoon -- on the 16th anniversary of Hurricane Katrina.
Ida gained 35 mph in sustained wind speed in just six hours, the NHC said.
_________________


8DonCo





OMG.. good luck cho tt ca ACE o LOUISIANA.


spinner





Vô tới
Hurricane Ida makes landfall in Louisiana
With Hurricane Ida making landfall as a 150 mph Category 4 hurricane, it is now tied for the strongest storm to ever make landfall in Louisiana. 
By the numbers:


Hurricane Ida ties Laura (2020) and the Last Island Hurricane in 1856 as the strongest to hit LA (all had 150 mph top winds).

Louisiana becomes the first US state to record a 150+ mph hurricanes in back-to-back years (Laura and Ida)

A 150 mph Category 4 hurricane has more than 250 times the damage potential of a 75 mph Category 1 storm, per NOAA analyses

Hurricane Ida's hurricane-force winds extend 50 miles from the center, and tropical storm-force winds stretch 150 miles from center. The center is forecast to pass about 30 miles west of New Orleans.

New Orleans has received over 65 inches so far this year, their second wettest on record to this point of the year. This will make flooding in the region worse. New Orleans is expecting 15-20 inches of rain with Ida. 


_________________


8DonCo





Hy vọng nó 0 bị giống như Harvey 4 năm trước đây khi vào Texas!


ga10





Chi Ga, luc truoc Fl Miami minh bi tran Andrew khung khiep lam... minh bi mat dien gan 1 tuan...
((((


spinner





spinner wrote:Chi Ga, luc truoc Fl Miami minh bi tran Andrew khung khiep lam... minh bi mat dien gan 1 tuan...  

((((
Yes, I remembered Andrew too!


ga10





New Orleans residents urged to limit water use as city-wide power outage hits sewer pumping stations
All of New Orleans is now without power, officials say
Barges have broken loose in one Louisiana parish because of Hurricane Ida, official says
_________________


8DonCo





Every road in Lafourche Parish is impassable, sheriff says
_________________


8DonCo





Similar topics
---
Permissions in this forum:
You
cannot
reply to topics in this forum