Olympic gold medalist Suni Lee says she was pepper-sprayed in a racist attack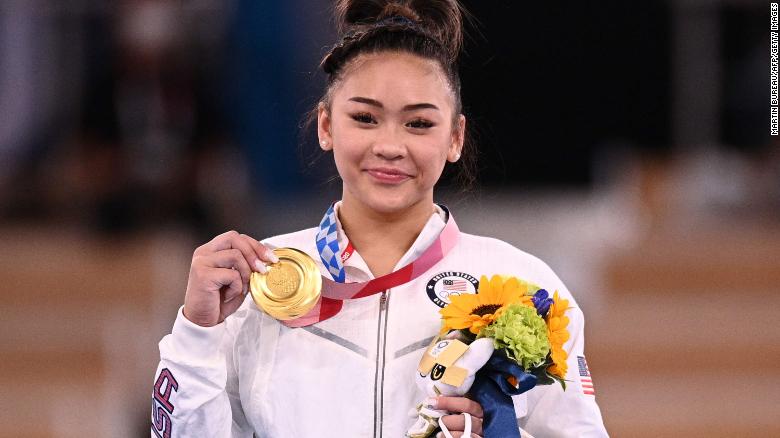 Suni Lee with her gold medal at the Tokyo Olympics in July.
(CNN)American gymnast Suni Lee, an Olympic gold medal winner and the first Hmong American to compete in the Olympics, said she was pepper-sprayed in a racist incident while in Los Angeles for her stint on "Dancing with the Stars."
Lee was waiting for a ride after a night out with a group of girlfriends who were all of Asian descent, she told PopSugar in an interview.
She said a car drove by and the people in it started shouting racist slurs like "ching chong," and telling the girls to "go back to where they came from," according to the article.
Then, one of the passengers sprayed her arm with pepper spray before the car took off, Lee said.
Lee confirmed to CNN that the incident happened in October.
"I was so mad, but there was nothing I could do or control because they skirted off," Lee told PopSugar.
"I didn't do anything to them, and having the reputation, it's so hard because I didn't want to do anything that could get me into trouble. I just let it happen."


Attacks against Asian Americans have skyrocketed during the pandemic. A coalition that tracks racism and discrimination against Asian Americans said there were at least 4,533 incidents reported in the first six months of this year.

More than 9,000 incidents were reported to the coalition, Stop AAPI Hate, from March 19, 2020 to June 30, 2021.
_________________


8DonCo





thật sự mả nói theo bản thân tui... có nghe nhiều vụ kì thị và hành hung người Á Đông, tui cũng cảm thấy không quan tâm.

nói đơb giản hơn ... vì dụ có một ngưới bạn đến nói rằng tiêm của họ mới bị cướp... 90% rằng tui nghĩ bạn sẽ chia buồn và an ủi người bạn mình, hy vọng lính sẽ sớm tớm cổ bọn cướp...

thế rồi thôi.

rồi tuần sau thì tiệm của bạn bị ăn cướp .... Chỉ có khi đó bạn mới "trãi nghiệm" được nổi sơ hãi, cái yếu thế của người bị ức hiếp và bị làm nhục chỉ vì chúng manh, chúng có vũ khí, lấy đi của cải mình làm ra

Do vậy, tui băt đầu quan tâm

trong trường hợp giữa đường, mình gặp một gã bự con khùng điên. đang hành hung một người Á đông .... đánh nó thì đánh không lại, cách tốt nhất để giúp người bị hại là làm ồn lên ,,, la hét , đập của nhà dân...nhớ kím nhà nào hông có súng mà đập , đập cửa nhà này rồi sang đập cửa nhà khác... có  thể bạn cứu được một người

0000
_________________
Mõ nhọn đại ca


Rễ Sim





Tui gặp một thằng Thổ (Nhĩ Kỳ) đánh người đàn bà ở ga xe lửa. Tới gần nói, tui đang gọi cảnh sát. Nó nói vợ nó láo nó đánh kêu tui đi chỗ khác chơi. Tui cũng ngán mấy thằng này hay lận dao, súng trong người. Tóm lại Sim đúng.


Lút





Đừng lo .. Có mít bầy đàn hyenas cuồng chump ra bảo vệ mấy ai mà bị rác trắng kỳ thị . Mít bầy đàn hyenas cuồng chump đã đổi tên họ ông bà của tụi nó qua tên "chump" ráo trọi rồi . Tụi nó đã đi tẩy da cho trắng, nhuộm tóc vàng khè, mang contact lense màu xanh nước biển để cho giống màu da, màu tóc, và màu mắt của lão chump, một "Arian" kind rồi .
Đám mít bầy đàn hyenas cuồng chump này sẽ bảo vệ cho dân Á Châu không bị kỳ thị đó .. Tụi nó nói vậy đó ..
_________________
LOCK CHUMP UP !

HEY CHUMP! YOU'RE FIRED

CHUMP AKA THE BIG LIE


Tu* Khoai







LoveStory08





---
Permissions in this forum:
You
cannot
reply to topics in this forum