Waukesha officials just gave an update on the deadly Christmas parade incident. Here's what we learned.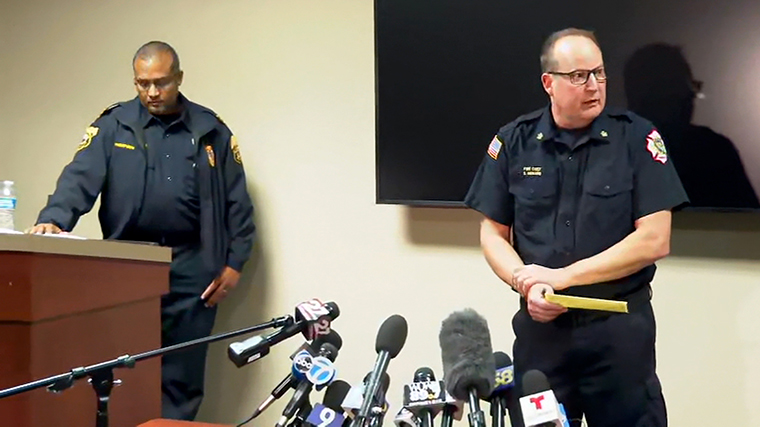 (CNN)



Multiple people were killed after an SUV plowed into crowds at a Christmas parade in Waukesha, Wisconsin, Sunday night, officials said.
City and law enforcement officials just gave an update on the incident. Many details are still unclear, but here's what we know so far:



"Some fatalities": Both Police Chief Dan Thompson and Fire Chief Steven Howard said there were "some fatalities" after a red SUV slammed into crowds at the parade. Neither official gave an exact number, and Howard noted, "we do not have any detailed information on the fatalities at this time."

23 people taken to hospitals: At least 11 adults and 12 pediatric patients were taken to six Waukesha-area hospitals following the incident, Howard said. He said officials did not have specific information about any of the injuries at this time.

A person of interest is in custody: Thompson said a "person of interest" is in custody following the parade crash. Earlier in the day, he told reporters that officials had recovered the suspected vehicle.

An officer tried to stop the SUV: Thompson noted that one police officer discharged his weapon at the suspect's vehicle to try to stop it. "No bystanders were injured by a result of the weapon discharge," Thompson said.

_________________


8DonCo







ga10





ga10 wrote:Chắc cố ý quá!

of course, do you think it 's accident again
_________________


8DonCo





At least 5 killed in Waukesha Christmas parade crash, officials say




From CNN's Joe Sutton, Keith Allen and Travis Caldwell



Five people were killed and more than 40 were injured when a vehicle drove into a Christmas parade Sunday afternoon in Waukesha, Wisconsin, city officials said.

"These numbers may change as we collect additional information. Many people have self-transported to area hospitals," the city of Waukesha said in a Twitter post early Monday.
Witnesses described the horror of seeing individuals struck and lying on the ground after a red SUV drove through a series of barricades and barreled into the crowded parade route on Main Street around 4:39 p.m. local time.

Police Chief Daniel P. Thompson said officers are working with the Waukesha County Medical Examiner's Office to identify victims.



_________________


8DonCo





Hình như tên lái xe này đâm dao ai xong bỏ chạy vì sợ cảnh sát bắt cho nên hắn tông vào parade luôn để chạy thoát!


ga10





---
Permissions in this forum:
You
cannot
reply to topics in this forum