Shooting at Fourth of July parade in Highland Park, Illinois, leaves at least 5 dead, 16 wounded, city says
A mass shooting at a Fourth of July parade Monday in a wealthy suburb outside Chicago, Illinois, left at least five people dead and 16 wounded, according to the city of Highland Park.
The city said police are still searching for the suspect and advised people to shelter in place.
The shooting in Highland Park, about 25 miles north of Chicago, caused hundreds of people to flee and triggered a police response of local, state and federal officers.
Highland Park
[/url]  
said its Independence Day parade has been canceled and advised people to avoid downtown. The Illinois State Police said its troopers were responding to a "reported active shooter" in an assist role, and a spokesperson for FBI Chicago said it has deployed resources to the scene.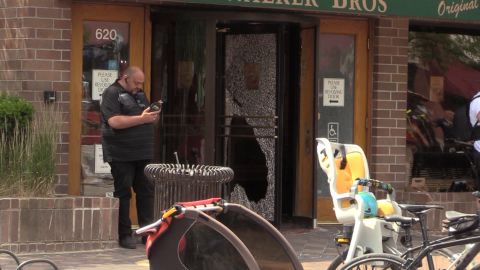 The scene following a shooting in Highland Park on July 4th.
Network Video Productions
One parade attendee, Miles Zaremski, said he heard what he believed to be about 20 to 30 gunshots, in two consecutive spurts of gunfire, at about 10:20 a.m. CT, 20 minutes after the start of the parade. The hail of gunfire caused a stampede of people to flee, he said. He told CNN he saw a number of people bloodied and on the ground and described the scene as chaotic.
US Rep. Brad Schneider, a Democrat who represents the area, confirmed he was on scene during the shooting in a tweet.
"My campaign team and I were gathering at the start of the parade when the shooting started. My team and I are safe and secure," he said.
State Rep. Bob Morgan said there have been multiple injuries.
Video taken by a witness, Hugo Aguilera, shows an ambulance turning around on the parade route and a police car with sirens on, as people gathered on the grassy sidewalk. Aerial video from CNN affiliate WLS shows abandoned lawn chairs up and down the parade route amid a heavy police presence.
The July 4th parade was expected to feature floats, marching bands, novelty groups, community entries and other special entertainment, the city said on its website.
It was scheduled to begin at 10 a.m. CT at the intersection of Laurel and St. Johns Avenues, and was set to head north on St. Johns Avenue and then west on Central Avenue and continue to Sunset Park, the city said.
The suburb of Highland Park has a population of about 30,000 people and has a per capita income of about $90,000, nearly triple the US average, according to US Census data.
The nearby suburbs of Deerfield and Evanston canceled their July 4th parades in the wake of the shooting.
_________________


8DonCo





Chào anh 8. Have a Happy July 4th nha, Ủa mà anh 8 là người Candian mà....Dzô dziên thiệt.
Highland Park đó chỉ cách vùng Lan ở 15 phút lái xe thôi đó anh. Tạ ơn trời đất vì ba mẹ con của Lan không cần phải chạy ngang vùng đó để đi làm, nhưng vẫn thấy sợ, chắc năm nay không cho 2 nhóc đi xem bắn pháo bông ở Downtowwn nữa đâu, nằm nhà coi qua màn ảnh cho safe hơn.


Last edited by Nhỏ Lan on Mon Jul 04, 2022 5:52 pm; edited 1 time in total


Nhỏ Lan





Shooting from the ròoftop then they ảe snipers and may not be just one person!


ga10





Gà

How is your trip ? stil there ?
_________________


8DonCo





Robert E. Crimo III taken into custody as a person of interest connected to Highland Park parade shooting
From CNN's Jamiel Lynch
Robert E. Crimo III has been taken into custody near Lake Forest, IL, authorities said during a brief news conference just before 8 p.m. ET.
Authorities said Crimo was spotted by a North Chicago officer who attempted to initiate a traffic stop. Crimo then fled and led officers on a brief pursuit before being stopped in Lake Forest, Illinois.
He was taken into custody without incident and will be taken to the Highland Park police department. 
When asked, authorities said they are still calling Crimo a "person of interest" while they investigate and connect him to the scene. 
_________________


8DonCo





Another white male suspect shooter? What's going with our world?

It's not safe to be in school nor safe to enjoy a parade with the community anymore!


ga10





---
Permissions in this forum:
You
cannot
reply to topics in this forum