2 Americans freed after being captured by Russia while fighting for Ukraine in June, families say 
From CNN's Kylie Atwood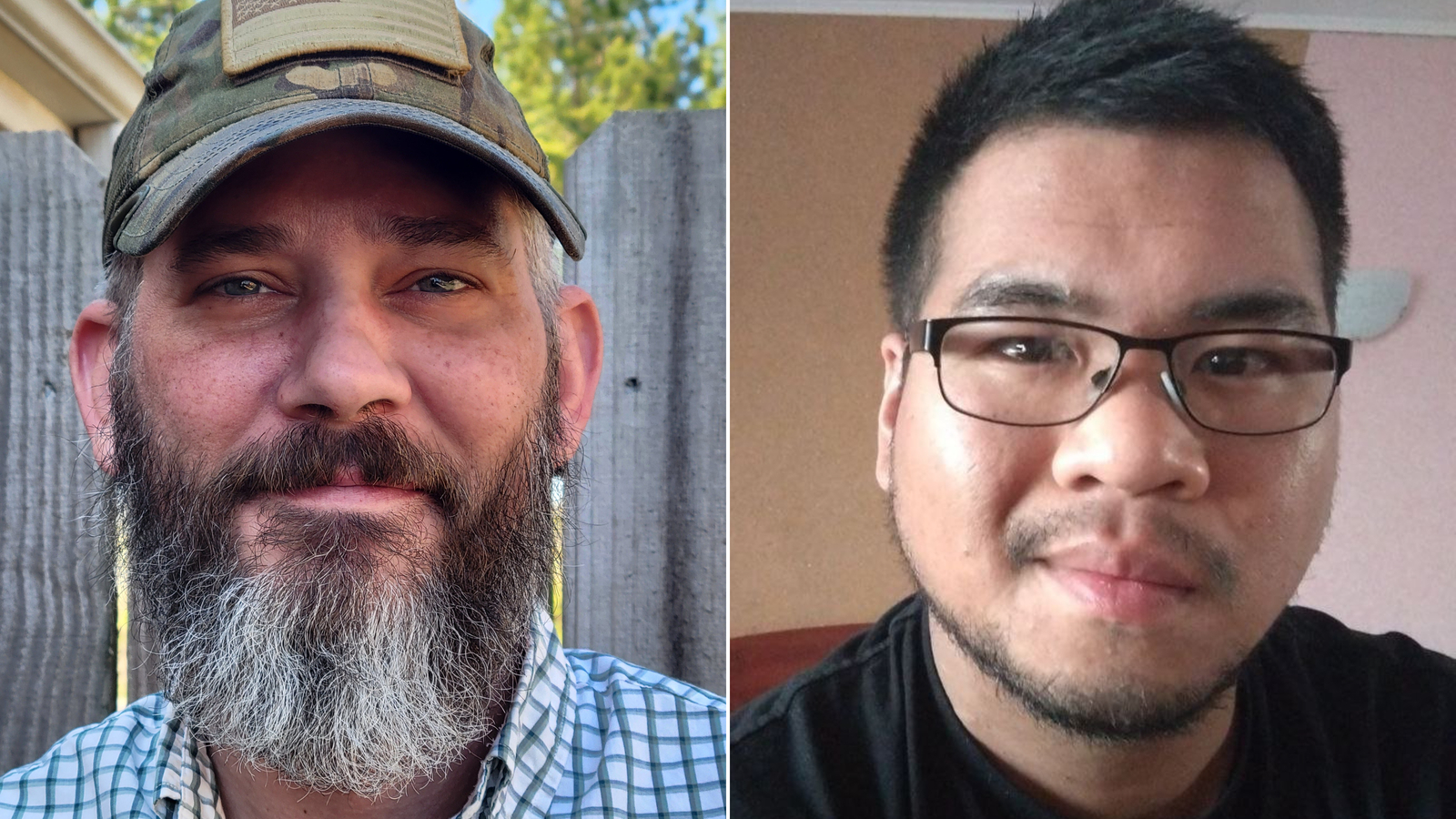 Alexander John-Robert Drueke, left, and Andy Tai Ngoc Huynh, right. (courtesy Bunny Drueke/Joy Black)
Two American veterans who have been held by Russian forces for months have been released as part of a prisoner swap between Russia and Ukraine, their family members confirmed to CNN. 

The men are Alexander John-Robert Drueke, 39, from Tuscaloosa, Alabama, and Andy Tai Ngoc Huynh, 27, from Hartselle, Alabama. They were captured while fighting for Ukraine north of Kharkiv in June.
"We are thrilled to announce that Alex and Andy are free. They are safely in the custody of the US embassy in Saudi Arabia and after medical checks and debriefing they will return to the States. We deeply appreciate everyone's prayers and especially the close communication and support of our elected officials, Ukrainian Ambassador Markarova, and our members of the US embassies in Ukraine and Saudi Arabia and the US Department of State," said Diana Shaw, a spokesperson for both families and Dreuke's aunt.  
The families did not know that the prisoner exchange was in the works. 
"It kind of knocked us off our feet but this is the best outcome we could have asked for," said Darla Black, the mother of Huynh's fiancée, Joy Black, told CNN. "The only thing confirmed for us is that they are at the US Embassy in Saudi Arabia and that they are free."
Earlier on Wednesday, the Saudi Ministry of Foreign Affairs announced the release of 10 prisoners, who are Moroccan, US, UK, Swedish and Croatian nationals.
Joy Black got a call from Saudi Arabia this morning, less than an hour ago, to let her know that Drueke and Huynh were at the US embassy in Saudi Arabia and going to get medical checks. Then Huynh called her, she said.
Huynh never spoke with his family while he was being held as a prisoner of war. It was the first time his fiancée spoke to him in over 100 days. Drueke spoke with his family a handful of times. 
Darla Black said she also got a call from the State Department letting her know that Huynh was in Saudi Arabia. 
The families do now know many details about the trade or how they got to Saudi Arabia. 
The families also do not know exactly where the two Americans were being held, but the assumption was that they were in the Donetsk region.
_________________


8DonCo







nhatrangdep





Mừng quá. Thiệt là công dân mẽo có khác. Có nanh có vuốt

_________________
I stand with Ukraine

Cầu nguyện cho Ukraine


LDN





Đúng ra tới 10 người , Saudi đứng ra hoà giải




Nga hôm 21/9 trả tự do cho 10 tù binh chiến tranh nước ngoài bị bắt ở Ukraine sau sự hòa giải của Thái tử Ả Rập Xê út Mohammed bin Salman.

Bộ Ngoại giao Ả Rập Xê Út (Saudi Arabia) cho biết trong một tuyên bố, các tù nhân được trả tự do là công dân Mỹ, Anh, Croatia, Maroc và Thụy Điển.

"Các cơ quan hữu quan của Ả Rập Xê Út đã tiếp nhận và chuyển giao họ từ Nga đến vương quốc và đang tạo điều kiện làm thủ tục cho các quốc gia tương ứng", tuyên bố cho biết.

Một quan chức Ả Rập Xê Út cho biết họ gồm 5 người Anh, 2 người Mỹ, 1 người Croatia, 1 người Maroc và một người Thụy Điển, tuy nhiên không tiết lộ danh tính các tù nhân.

Nga cũng trả tự do cho hai công dân Hoa Kỳ Alexander Drueke, 39 tuổi và Andy Huynh, 27 tuổi - công dân Mỹ gốc Việ, một đại diện của gia đình nói với hãng tin Reuters hôm thứ tư.

Cả hai đều đến từ bang Alabama, bị bắt vào tháng 6 khi đang chiến đấu ở miền đông Ukraine, nơi họ đến hỗ trợ quân đội Ukraine chống lại cuộc xâm lược của Nga.

Một số lượng lớn người nước ngoài đã đến Ukraine để chiến đấu kể từ cuộc xâm lược ngày 24 tháng 2 của Nga.

Một số trong đó bị lực lượng Nga bắt giữ, cùng với những người nước ngoài khác ở nước này, nga cho rằng họ không phải là những chiến binh mà là "lính đánh thuê" và sẽ bị đối xử như tội phạm chứ không phải là tù binh chiến tranh.
_________________


8DonCo







LoveStory08





Mừng cho những người này và gia đình họ. Nhưng cũng buồn cho người dân Ukraine và Nga vẫn còn suffering vì chiến tranh và người thân bị chết chóc!


ga10





Tôi có lúc tự hỏi, nếu có người bắt được Putin, vậy thì Zelenskyy lấy gì để đổi?


hoàng tử lưng gù





---
Permissions in this forum:
You
cannot
reply to topics in this forum