A powerful storm system unleashed violent tornadoes and severe thunderstorms across the South and Midwest on Friday.
Damage assessment is still underway, and it's unclear exactly how many tornadoes have been confirmed yet. But here's a look at the extent of the storms so far.
Tornado damage reported in 60 locations in 8 states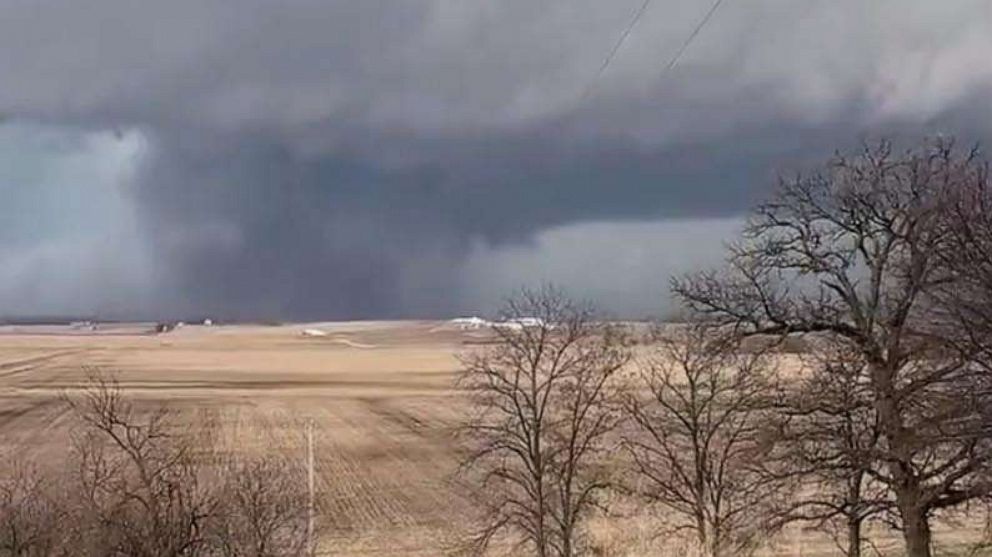 In this screen grab from a video posted on social media, a tornado is shown near Keota, Iowa, on March 31, 2023.
@drewsieren/Twitter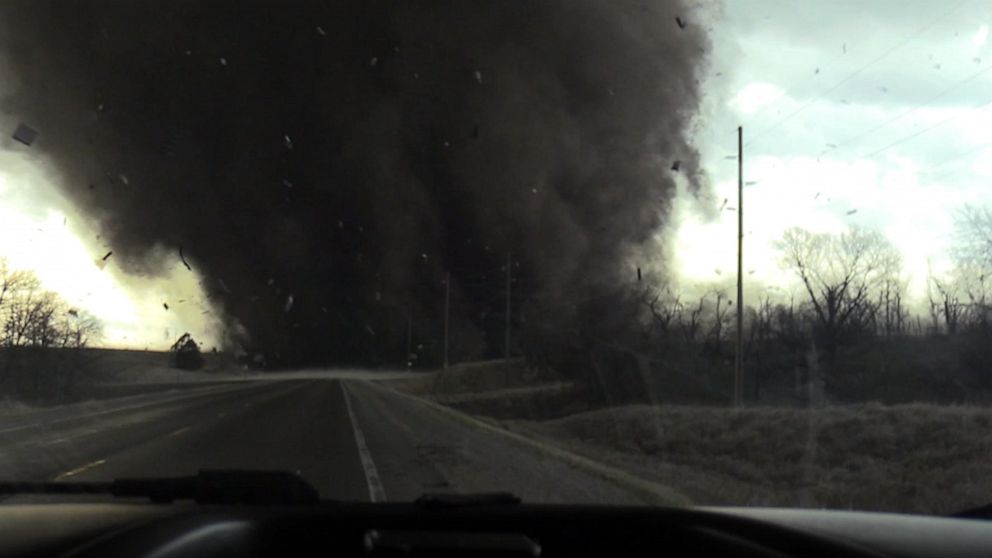 In this screen grab from a video, a tornado crosses a road in Harper, Iowa, on March 31, 2023.
seethestorm.com

Sixty locations in eight states have reported tornado damage since Friday afternoon, according to meteorologists. The number of reported locations continued to increase Saturday morning amid an ongoing tornado threat.
The National Weather Service will be conducting storm surveys Saturday to investigate the damage and give a more definitive number of confirmed tornadoes.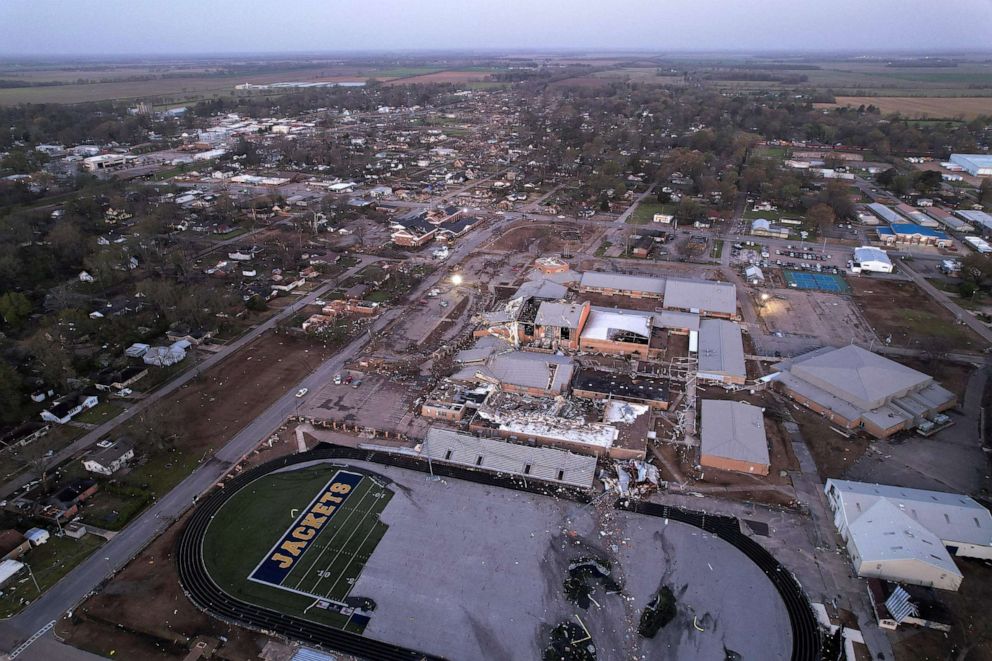 This aerial view shows the damage following a tornado in Wynne, Arkansas, on April 1, 2023.
Cheney Orr/Reuters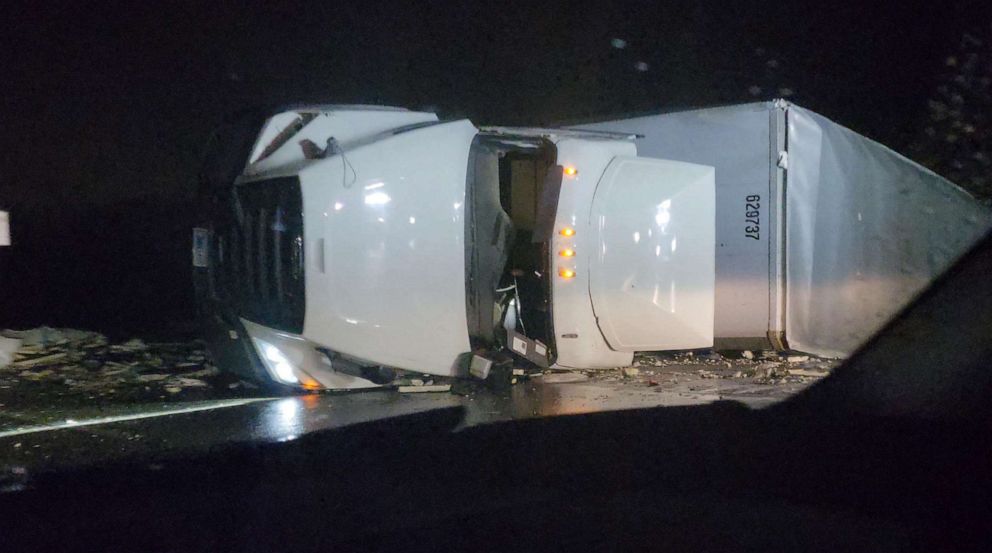 An overturned truck is seen on the road following a tornado in Whiteland, Indiana, on April 1, 2023, in this screen grab obtained from a social media video.
Joel Sparks via Reuters



EF3 in Little Rock

In Little Rock, Arkansas, a confirmed "catastrophic" tornado moved through the city Friday afternoon, the NWS said. Based on preliminary information, the city was hit by an EF3 tornado with winds up to 165 mph and a path length spanning 20-25 miles, according to the NWS in Little Rock.

21 fatalities



At least 21 people in six states have been confirmed dead following Friday's powerful storms, per state and local officials:




Tennessee: 7 (McNairy County), Adamsville Mayor David Leckner told The Associated Press

Arkansas: 5 (4 in Wynne, 1 in North Little Rock), state officials said

Illinois: 4 (1 in Belvidere, 3 in Crawford County), according to Boone County and state officials

Indiana: 3 (Sullivan County), according to the Sullivan County coroner

Alabama: 1 (Madison County), the Madison County Sheriff's Office confirmed to ABC News

Mississippi: 1 (Pontotoc County), Mississippi Emergency Management Agency said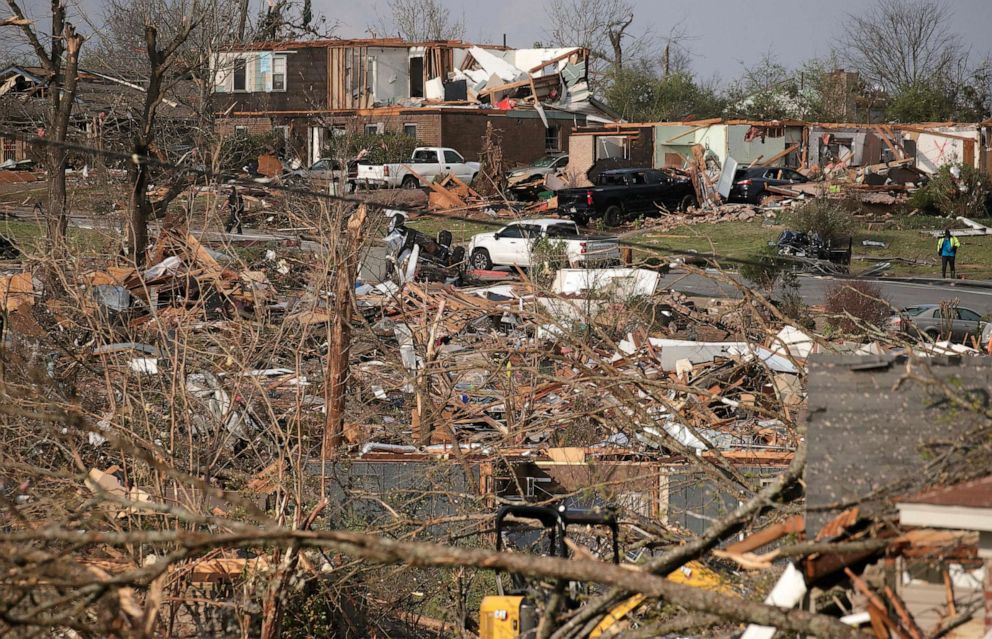 The damaged remains of the Walnut Ridge neighborhood is seen on March 31, 2023, in Little Rock, Arkansas.
Benjamin Krain/Getty Images
More than 730,000 customers without power
Severe weather was in the forecast Saturday, with damaging winds and an isolated tornado possible for parts of the Northeast.
As of approximately 4:46 p.m. ET, more than 730,000 customers in five states were experiencing power outages in the U.S. The states with the most outages were:
Pennsylvania: 258,919

Ohio: 248,079

Tennessee: 105,417

West Virginia: 64,343

Kentucky: 55,209

ABC News' Daniel Amarante contributed to this report.
_________________


8DonCo





Canada bây giờ cũng có tornado chứ không riêng gì Mỹ nhưng ìt bị hơn Mỹ một chút nhưng ngược lại thì phải chiu cảnh mùa đông kéo dài


saurieng2016





Similar topics
---
Permissions in this forum:
You
cannot
reply to topics in this forum