Phim hay bắt đầu 
_________________


8DonCo





Here are the Fox anchors and executives who could take the stand during the defamation trial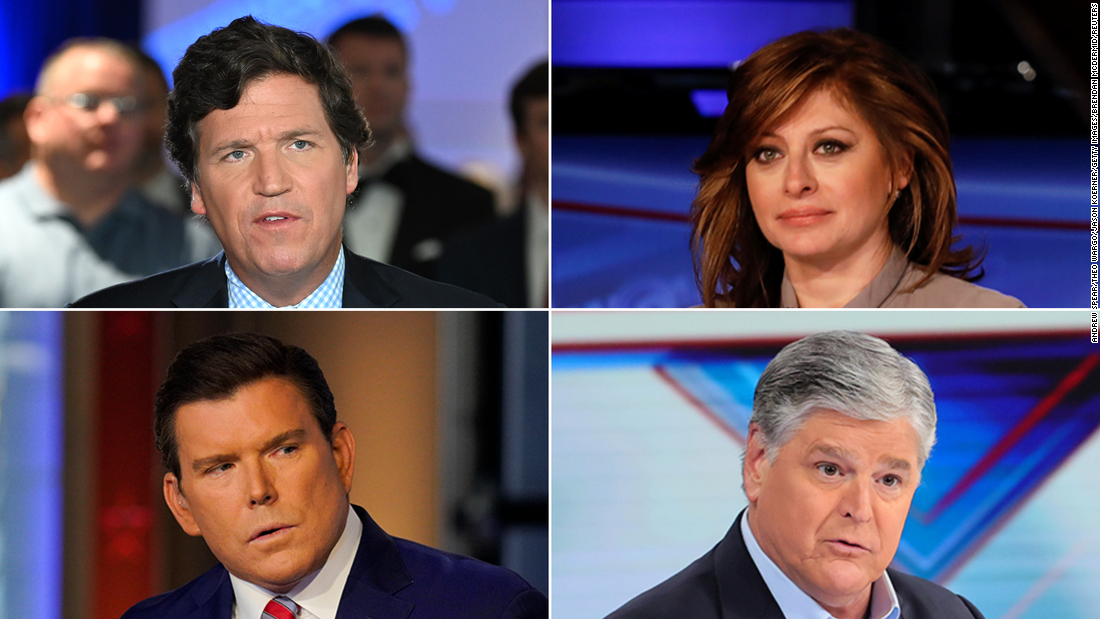 Left to right, clockwise: Fox News TV hosts Tucker Carlson, Maria Bartiromo, Sean Hannity, and Bret Baier. (Andrew Spear/Theo Wargo/Jason Koerner/Getty Images/Brendan McDermid/Reuters)



Dominion Voting Systems wants Fox network's star hosts and top executives to appear on the witness stand during trial, it said in a court filing in March.
In April, Delaware Superior Court Judge Eric Davis said Dominion could compel Fox Corporation Chairman Rupert Murdoch and his son, CEO Lachlan Murdoch, to testify, in a big blow to Fox.
"Both parties have made these witnesses very relevant," Davis said, regarding the Murdochs. Fox was trying to block Dominion from having the Murdochs on the witness stand.
Here's who else could appear as witnesses, if Dominion gets its way:

Suzanne Scott, Fox News CEO

Jay Wallace, Fox News president

Hosts Sean Hannity, Tucker Carlson, Maria Bartiromo, Laura Ingraham and Bret Baier

Abby Grossberg, a former Fox News producer who alleged that the network's lawyers coerced her into providing misleading testimony in a lawsuit filed March

_________________


8DonCo





You aren't 'Dick Tracy,' judge tells jurors


In his initial instructions to the jury, Judge Eric Davis told jurors not to talk amongst themselves or discuss the case with family or friends.
"You have to fight human nature. This is the hardest thing you'll have to do during the trial," Davis said. "You have to refrain from talking about the case with your fellow jurors or a third party."
The judge also reminded the jurors that they are not Dick Tracy.
"Do not do any detective work," he said. "You cannot do any independent research about this case."
Davis told jurors they can bring water or some other beverage into the courtroom, provided it has a cap or lid.
"You can bring some type of drink," Davis said, jokingly adding, "non-alcoholic."
The trial is expected to last about six weeks.
_________________


8DonCo





Settlement reached in Dominion defamation lawsuit against Fox News
_________________


8DonCo





Can you guess how much Fox News pay ?
_________________


8DonCo





Fox News-Dominion settlement totals more than $787 million, Dominion lawyer says
_________________


8DonCo





Coi như 1/2 price
_________________


8DonCo





năm rồi Fox nhờ nói xạo, giữ đi supporters của Trump mà lời B$1.2, so ra con số settled quá ít .
đài BBC bên đây đang nói, hom qua đài SkyNews của Anh, có vẽ như extreme right như Fox có mentioned Fox đang settled, nên sẽ ko có trial (that was 24 hours ago) SkyNews hôm qua mời 1 giáo sư dạy về ethic at U of MN lên nói, con mẹ này nói rằng: người nói tin tức lúc nói ko confirm được tin thật hay giã nên Dominion lawsuit làm sao thắng được, mới nói ngày trước ngày sau Fox sợ quá settled mother mất rồi, làm ko có phim xạo của Fox để coi.
Ko biết besides $$$ có còn thêm gì hay ko?


Rice





Sue tụi nó tụt wần hết đê ...FoxFake News, Pillowman, Pitbull Rudy rồi một đám dóc láo nữa .
_________________
LOCK CHUMP UP !

HEY CHUMP! YOU'RE FIRED

CHUMP AKA THE BIG LIE


Tu* Khoai





---
Permissions in this forum:
You
cannot
reply to topics in this forum