Huawei CFO Meng Wanzhou arrested in Canada, faces extradition to United States
Hong Kong (CNN Business)The arrest of a top Chinese tech executive at the request of the United States has sent shock waves through stock markets.
The main index in Hong Kong fell about 2.5% and Tokyo stocks closed down 1.9% on Thursday after Canada said Huawei's chief financial officer, Meng Wanzhou, had been arrested in Vancouver and is being sought for extradition by the US government.
Shanghai's market slid about 1.7%, while US stock futures were pointing down more than 1%. Major indexes in Europe fell by around 1% to 1.5% in morning trading.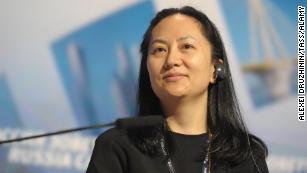 Huawei's CFO arrested in Canada, faces extradition to United States
The arrest of Meng, the daughter of Huawei's founder, sparked fears of a new escalation of tensions between the United States and China, which reached a truce in their trade war less than a week ago. Uncertainty about whether the two sides can reach a lasting deal has fueled volatile trading in global markets this week.
Tech stocks were among those bearing the brunt of the selling on Thursday.
Huawei isn't listed on a stock exchange. But ZTE (ZTCOF), a Chinese tech firm that was temporarily crippled by a US export ban earlier this year, slumped nearly 9%. Huawei suppliers AAC Technologies (AACAY) and Sunny Optical (SNPTF) both plunged around 6%.
Stephen Innes, head of Asia-Pacific trading at investment firm Oanda, linked the losses directly to Meng's arrest. The news has prompted investors to dump riskier assets, he wrote in a note to clients.
The Wall Street Journal reported last month that US officials had briefed counterparts in countries including Germany, Japan and Italy on potential security risks from Huawei equipment. That report prompted a major sell-off in more than 100 Chinese stocks, according to Innes.
_________________


8DonCo





mà bà làm gì mà bị arrested?? để google cái ...


nhatrangdep





ZTE, now Huawei, next? Acacia, ciena, fiberhome, hisilicon

All Chinese chip makers should banned!


vietnam4all





deal với mấy đứa này mà làm ra mấy cái chip cho điện thoại này nọ là nó bán đứng lien ..


nhatrangdep





Wow, 
Huawei giờ là #2 in the world sau Samsung, Apple xuống #3
_________________


8DonCo





Dân ở bên china tẩy chay Apple từ lâu lắm rồi.


vietnam4all





Huawei is one of China's most important tech companies — here's what it does and why the U.S. government is wary 
Huawei CFO Meng Wanzhou is under arrest in Vancouver and may soon be extradited to the United States to face charges for violating U.S. sanctions that prevent Huawei from selling equipment to Iran.
Huawei is a major global technology company, but it isn't as well known in the U.S. since most of its products aren't sold there.

Here's a quick briefing on what you need to know.
What does Huawei do?
Shenzhen-based Huawei (pronounced: wah-way) is the world's second largest seller of phones behind Samsung, according to IDC. It's best known for making high-end phones with appealing designs and premium hardware features that rival devices from Samsung and Apple.
While global consumers — especially those in China — may know the brand best for its consumer electronics, which also include laptops, tablets and TVs, Huawei's history is in providing telecommunications equipment. Put simply, Huawei also sells some of the hardware that lets your phone connect to wireless networks.
It used to sell gear to U.S. wireless carriers, too, but that ended more than a decade ago. More on that next.
Spying concerns
Back in 2012, U.S. lawmakers began to work to prevent American wireless carriers from buying equipment from Huawei and ZTE, another Chinese company. The U.S. government was concerned about Huawei's ties to the Chinese government and worried that equipment from both companies could eventually be a national security threat if it was deployed across the United States.

Those ties to the Chinese military begin with the CEO. Huawei's founder, billionaire Ren Zhengfei, was an engineer in China's People's Liberation Army before he left the service in 1983 and started Huawei four years later. Huawei has always denied its equipment is any more vulnerable to spying than that provided by other companies.
Most recently, AT&T abandoned its plans to launch a Huawei flagship smartphone in the U.S. in January. The Information news site reported at the time that AT&T canceled the launch after the House and Senate Intelligence committees raised concerns over the partnership.
The U.S. isn't the only country worried about Huawei's potential ability to use its hardware for spying. Australia has banned its wireless carriers from using Huawei equipment for new 5G networks. The U.K.'s spy chief also raised concerns about Huawei earlier this week.
Finally, earlier this year the FBI, CIA and NSA warned U.S. consumers to avoid buying phones built by Huawei and its sub-brand "Honor" that were sold through retailers such as Best Buy and Amazon.
"We're deeply concerned about the risks of allowing any company or entity that is beholden to foreign governments that don't share our values to gain positions of power inside our telecommunications networks," FBI Director Christopher Wray said in February.
"That provides the capacity to exert pressure or control over our telecommunications infrastructure," Wray said. "It provides the capacity to maliciously modify or steal information. And it provides the capacity to conduct undetected espionage."
Sanctions
Huawei and ZTE have been accused in recent years of continuing to ship products to Iran despite U.S. sanctions for its nuclear program. The alleged violations include shipments of phones or other equipment that contain chips made by U.S. companies. Qualcomm and Broadcom have provided parts to Huawei in the past, for example. The United States began digging deeper into Huawei's potential Iran sanctions violations in April, according to Reuters.
And that's where we are now.
Huawei's Meng was reportedly arrested on Saturday for ties to Huawei's role in potentially violating the sanctions. However, neither the United States nor Canada, where she was arrested, have yet to publicly disclose charges against her.
"We have made solemn representations to Canada and the U.S., demanding that both parties immediately clarify the reasons for the detention, and immediately release the detainee to protect the person's legal rights," a foreign ministry spokesperson said on Thursday, according to BBC.
_________________


8DonCo





Huawei' founder là kỹ sư của Quân Đội Giải Phóng Nhân Dân nên nước nào cũng sợ 
_________________


8DonCo





---
Permissions in this forum:
You
cannot
reply to topics in this forum