A huge piece of California's Highway 1 near Big Sur collapsed into the ocean
A huge piece of California's Highway 1 was washed out this week by a winter storm that brought heavy rain and snow.
California Department of Transportation (Caltrans) officials said in a statement Friday a debris flow from the hillside above the roadway "overwhelmed drainage infrastructure, flowed across the highway, and eroded the road resulting in the complete loss of a segment of Highway 1" at Rat Creek, about 15 miles south of Big Sur, a mountainous stretch of the state's central coast.
California Highway Patrol Officer John Yerace said he was in the area on Thursday around 4 p.m. when he noticed "this section of roadway, specifically the southbound lane, had fallen off into the ocean."
Images and drone footage from the scene show a huge gap in the scenic highway, which runs along much of the California coast.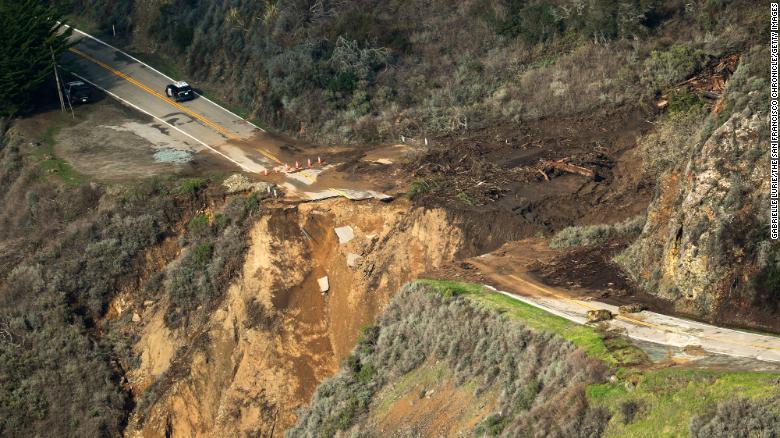 The view of Highway 1 on Friday, after a chunk of the roadway collapsed into the Pacific Ocean.
Caltrans crews discovered the debris flow on Thursday, and issued an emergency contract to Papich Construction in San Luis Obispo County to assist with the repair. At daybreak Friday, Caltrans crews and emergency contractors arrived at the scene and found "both lanes of the highway had washed out."
The damage assessment team will continue to work through the weekend, Caltrans' statement said. It's unclear how long the repair could take and the road will remain closed in the meantime.
Officer Yerace said upon discovery of the washed out road he stayed at the scene to keep motorists safe until he was relieved. He later returned.
"Some time overnight, prior to 6:30 this morning, we responded back to the scene with the assistance of Caltrans access and realized that the roadway is now gone," he said.
The area where the road collapsed is about a mile south of the burn scar left behind by the Dolan Fire, one of the wildfires that ravaged the state last summer, Caltrans said.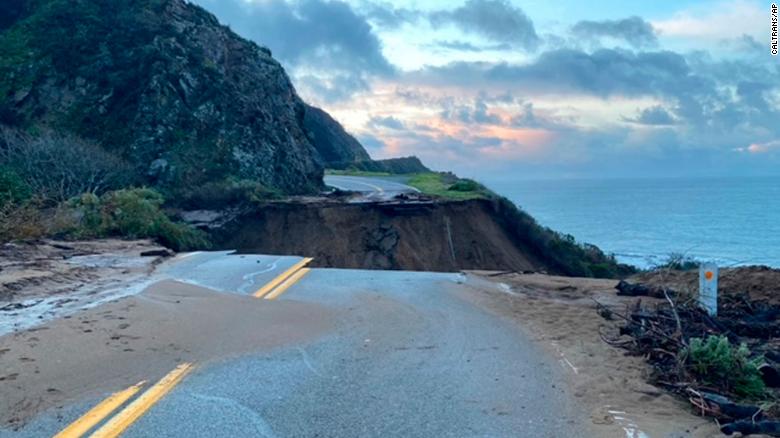 In this photo provided by Caltrans, a section of Highway 1 is shown collapsed.
Another stretch of Highway 1 reopened in July 2018, after a massive mudslide in May 2017 heaped tons of rocks on a quarter mile section of the highway, making it impassable and adding 13 acres to the coastline.
California Gov. Gavin Newsom has declared a state of emergency for Monterey and San Luis Obispo counties in response to winter storms that "threatened to cause mud and debris flows," forcing the evacuation of thousands of residents, according to the declaration.
At least 25 structures in Northern California have been damaged as a result of mudslides and debris flow caused by a powerful atmospheric river-fueled storm. Most of the impacted areas are where burn scars exist from earlier wildfires.
_________________


8DonCo





Nguy hiểm quá ai đang lái xe nhanh 0 thấy thì chắc nguyên chiếc xe bay xuống luôn. Hy vọng 0 ai bị toi mạng gì hết.


ga10





đoạn highway nầy đóng luôn chớ làm sao chạy được ?
_________________


8DonCo





Con đường HW 1 này nằm trong bucket list của tui đó hy vọng 1 ngày nào đó lái xe đi du lịch ngắm cảnh từ LA đi lên Monterey


dakao2




Location

: TX



dakao2 wrote:Con đường HW 1 này nằm trong bucket list của tui đó hy vọng 1 ngày nào đó lái xe đi du lịch ngắm cảnh từ LA đi lên Monterey
HW nầy chạy để ngắm canh 
_________________


8DonCo





Láy xe từ khúc carmel beach xuống big surf chỉ chạy khoảng 30 miles per hour only......cho nên tới khúc này là chỉ slow down. Vào mùa mưa ít có ai đi tại nó biết cách 1 vài năm là bị lỡ đất cho nên nó đóng đoạn đường này.......ai có xe mui trần đi ngang đoạn này nên để người ngồi kế bên chụp hình hoặc quay phim....người láy xe láy slow down và focus.


vietnam4all





Con đường này, 101 pacific coast highway chạy từ North Cali tơ"i LA được cho là highway đẹp nhất nước Mỹ, báo du lịch, sách báo nào cũng bình chọn con đường đẹp . Như VN4A nói, con đường này especially khúc này cứ bị đi bị lại, cách đây 6 năm, tụi tui tính lại từ LA tới SFO nhưng lúc đi khúc này bị sữa đường, rồi chỉ chạy tới Big Surf rồi quành về lại LA. Rồi cách đây 3 năm, thì lái từ SFO tới Big Surf chứ không đi thêm được nữa vì khúc này trước khi tui đi 1 tháng bị mud slide, đóng khúc này 6,7 tháng luôn . Thành ra tui đi 2 lần, 1 lần 1/2 . Đúng là quá đẹp luôn!


Rice





They need to fix this highway!


LoveStory08





Hồi đó OX rủ lái xe road trip từ San Jose tới LAX dùng Highway 1 nhưng Gà nói lái lâu hơn quá plus nghe nói cũng nguy hiểm vì ngoằn nghèo cho nên chỉ đi đường trong!


ga10





---
Permissions in this forum:
You
cannot
reply to topics in this forum