A bank accidentally deposited $50 billion into a Louisiana family's account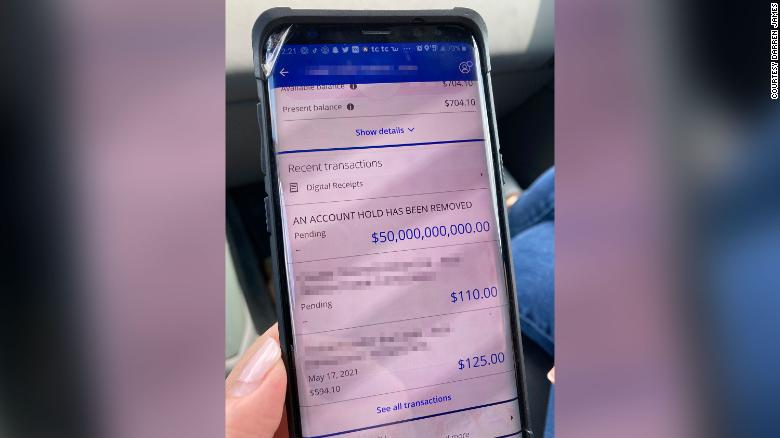 For four days, Darren James and his family were multibillionaires.
The real estate agent from Baton Rouge, Louisiana, and his wife were doing a routine check on their finances last Saturday when they noticed $50 billion had been mistakenly deposited into their Chase Bank account.
"That's not like a one zero error or a two zero error, that's somebody that fell asleep on the keyboard error," James joked. "I was excited for sure. Really surprised how it got there and wondered if I had a rich uncle that gave it to me."
But to his disappointment, it wasn't an inheritance -- just an incredibly unusual error.
Chase Bank restored the family's account to its correct balance on Tuesday, James said.
"We're still trying to figure out what happened, why it happened, how it happened, but we know we aren't the only ones this happened to," he told CNN. "The concern is whether my account was compromised, and the bank hasn't even called me. We haven't heard anything from anyone."
Chase Bank acknowledged the mistake to CNN, but gave a different timeline for when it was fixed.
_________________


8DonCo





I wouldn't be happy but really afraid if that happens.


BeiBei





0 biết cuối tháng statement có show tiền lời trong vài ngày được bao nhiêu 0 hén?


ga10





Wow, that's alot of money.  Mistakenly đeposited a few thousands I can understand but a few billions?!  Wow!


LoveStory08





Similar topics
---
Permissions in this forum:
You
cannot
reply to topics in this forum