đỡ bị "nhức đầu" 
FDA approves first-of-its-kind drug to treat hot flashes
Fezolinetant, sold under the brand name Veozah, is a pill taken once a day.
Women have suffered for centuries with hot flashes, one of the most common symptoms of menopause, without many treatment options.
Now, the U.S. Food and Drug Administration has approved a first-of-its-kind drug, fezolinetant, sold under the brand name Veozah, to treat moderate to severe hot flashes during menopause.
The drug, a pill taken once a day, is hormone-free, which makes it promising for women who cannot take hormone treatment because of other underlying health concerns, such as a prior history of strokes, heart attacks or blood clots.
According to the FDA, the drug works by targeting the brain's temperature control center to decrease both the frequency and intensity of hot flashes in women.
Prior to the FDA's approval of fezolinetant, the main treatment options for hot flashes related to menopause were hormone replacement therapy (HRT) and some types of antidepressants.
"Hot flashes as a result of menopause can be a serious physical burden on women and impact their quality of life," Dr. Janet Maynard, director of the Office of Rare Diseases, Pediatrics, Urologic and Reproductive Medicine, in the FDA's Center for Drug Evaluation and Research, said in a statement. "The introduction of a new molecule to treat moderate to severe menopausal hot flashes will provide an additional safe and effective treatment option for women."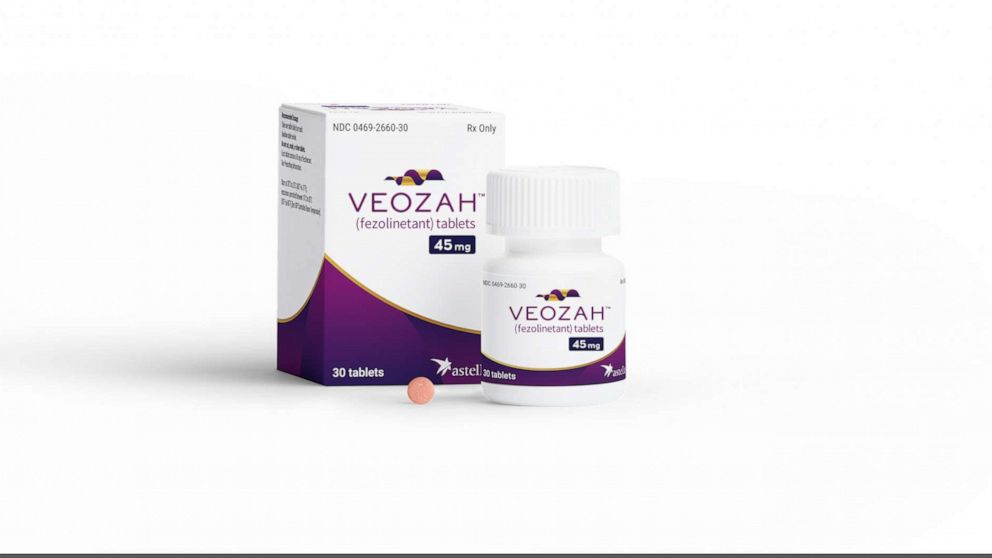 Veozah is a once-a-day pill to treat moderate to severe hot flashes during menopause.
Astellas Pharma

Menopause is the point 12 months after a woman's last and final period. The transition to menopause, also known as perimenopause, can take place over the course of several years, which is also how long women can suffer symptoms like hot flashes, according to the National Institutes of Health.
_________________


8DonCo





Luckily I don't suffer hot flashes so I don't need to take medications. 0 dám làm hormone treatments để giúp cho da tươi tắn vì sợ bị cancer.


ga10





That's great news! Looking forward to using it in the near future.


LoveStory08





Gạo ít biết Asians bị hot flash but đen và trắng bị nặng lắm and kéo dài for many years too. Bà boss Gạo bị 10 years, mà mỗi lần bị she was very cranky. Có lúc đang ngồi họp bả cũng bị .

Ko bị hot flash thì bị chứng khác, like me, da khô, thoa lotion như tắm vậy, hủ lotion mau hết lắm . Tánh tình thì ko bị ảnh hưởng so far.


Rice





---
Permissions in this forum:
You
cannot
reply to topics in this forum