"Nightmare," Some planning to get new COVID-19 vaccine getting bills for nearly $200
ACTON – When Glen Cote of Acton drove to his appointment at CVS for the new COVID-19 vaccine, he was shocked to receive a text on his phone minutes before his appointment, letting him know that the vaccine would cost $190.99.
"Nightmare is the first word that comes to mind," he explained to WBZ-TV. Cote is covered by MassHealth, the state's program for Medicaid.
The new COVID-19 shot was approved by the FDA and CDC about a week ago, with the vaccine to be shipped to area pharmacies. Signs outside many CVS stores read "FREE FLU & COVID-19 vaccines here."
Instead, posts on social media show that [url=https://twitter.com/search?q=covid vaccine]several people nationwide[/url] are getting charged for the shot, anywhere between $125 and $190.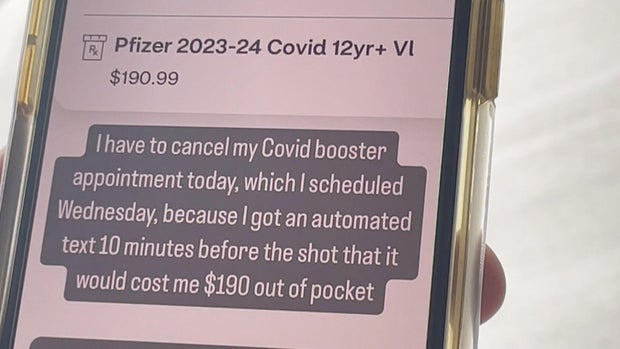 Glen Cote canceled his COVID booster appointment at CVS after getting a bill for $190.99.[size=10]CBS BOSTON
[/size]
The new vaccines by Pfizer and Moderna are supposed to target newer variants. Experts have recommended Americans get them along with their annual flu shots this year. 
COVID-19 vaccines were free, covered by the federal government, until the Public Health Emergency ended earlier this year. 
COVID-19 vaccines should be covered by most private and public health insurances.
According to both CVS and the Centers for Medicare and Medicaid Services, the new vaccines have a new billing code for insurances – which has not been updated in all insurance plans, leading to the erroneous charge for people seeking out a vaccine in this first week. 
"Some payers are still updating their systems and may not yet be set up to cover the updated COVID-19 vaccines. If this happens, our pharmacy teams can help patients schedule an appointment for a later date," a CVS Spokesperson said. 
Glen Cote is disappointed in the lack of a smooth rollout, and a lack of answers which led him to reach out to WBZ. "I thought that we're supposed to take care of each other in the richest country on earth, and I can't even get a COVID booster to keep myself and my friends and family safe," he said.
His concern is the impact these planning hurdles could have on people in more complicated situations than his. He has spent hours on the phone trying to figure out the issue. "I'm some schmuck with a college degree in an Instagram account and there are people – like imagine if I had two kids and two part-time jobs or like two full-time jobs or something," he said. 
_________________


8DonCo





là bên Mỹ thoi há bac8 chứ bên Canada vẫn là free hén ?

"Approved vaccines are available at no cost for those 6 months of age and older. Canada continues to recommend COVID-19 vaccination, particularly for those most at risk for infection with the COVID-19 virus or severe complications from COVID-19.Sep 12, 2023"


saurieng2016





I think it got screwed up from the pharmacy because it's free in MA, Acton is a town (Indian town
) in MA.
Tùy state thôi, it will be interesting to see how it will roll out (free or not) in FL tại cưng Ron meatball (Trump calls him that) chóng covid vaccinations.


Rice





ngộ vậy, hôm qua ông bạn tech đi chít ở Walgreen không có trả đồng nào.

-TECH-
_________________
Love This Backhand & Backhand Slice


tech





tech wrote:ngộ vậy, hôm qua ông bạn tech đi chít ở Walgreen không có trả đồng nào.

-TECH-
Some planning
nhớ coi kỷ trước khi đi chích
_________________


8DonCo





gia đình bà chị tui đi chích cũng free hết
bả chích về mệt chút rồi xong không bị hành


nhatrangdep





Xóm.mình chuẩn bị đi chích chưa nè ?



TuTu





chắc chị không chích quá TT ..

năm này đi bác sĩ họ hỏi có muốn chích flu shot không chị không chích


nhatrangdep





Vợ chồng Gà và đứa lớn đều bị COVID hồi January chỉ có Út thì 0 bị lây vì lúc đó 0 có ở nhà. Hôm thứ 6 rồi Út traveled bằng xe lửa đi NYC và sẽ ở đó khoảng 1 tháng. Út có đeo N95 mask khi đi lên train vì Gà dặn trên NYC đông đút mọi người tứ xứ phải be careful.

Mới nhận được text là he tested positive. Bây giờ mình ngồi lo vì con ở xa quá rủi bị nặng hơn 0 biết nó có cho mình hay 0. Gà dặn dò nếu feel bad thì nên vào urgent care....hy vọng 0 đến nổi nào.


ga10





Similar topics
---
Permissions in this forum:
You
cannot
reply to topics in this forum