A masked police officer robbed three Las Vegas casinos of $164,000. He was identified in part by his unusual gait
The mysterious man pulled up outside the Red Rock Resort and Casino in a pickup truck covered with trash bags.
Wearing dark clothing, black latex gloves and a mask over his face, he walked up to the cashier's cage and demanded money, his hand tucked into his pocket as if he was concealing a weapon.
It was shortly before 4 a.m. on November 12, 2021. The cashier was terrified that he'd begin shooting, so she handed him almost $74,000 in cash.
The robber stuffed the money – mostly $100 and $20 bills – into a bag hidden in his jacket and left. Nobody got a good look at his face, but when authorities reviewed the security camera footage, they noticed the man had an unusual gait, appearing to kick out his left foot as he walked. It was a key clue.
The robbery, detailed in federal court documents, was the first in a trio of brazen casino heists over the next three months totaling $164,000 and ending with the arrest and conviction of Caleb M. Rogers, who turned out to be an officer with the Las Vegas Metropolitan Police Department.
A judge this week sentenced Rogers, 33, to 12 years in federal prison followed by three years of supervised release. Evidence in the case revealed that in the third robbery, Rogers brandished his service firearm and threatened to shoot casino and security employees.
The casino heists followed a similar pattern
Charging documents show that on January 6, 2022, Rogers pulled off a second robbery at the Aliante Casino and Hotel in North Las Vegas.
This time, he arrived at the resort around 4:30 a.m. in a white Volkswagen and parked in a handicapped spot near the entrance. He again wore a mask and gloves and approached a cashier with his hand in his pocket and demanded money, leaving with $11,500.
Again, a review of surveillance video showed him walking with the same distinctive gait through the casino and parking lot.
About six weeks later he struck the sportsbook at the Rio All-Suite Hotel & Casino. Shortly before 7 a.m. on February 27 of last year, casino employees were transferring money from a bag into cash drawers when Rogers approached them with his hands in his pockets.
He yelled, "Get away from the money. I've got a gun. I will shoot you!" according to a press release from the US Attorney's Office for the District of Nevada.
Rogers climbed over the counter and shoved one of the employees to the floor before grabbing almost $79,000 and fleeing after an employee triggered an alarm, prosecutors said.
During the robbery, he repeatedly yelled to the employees, "This isn't your money. It's not worth losing your life over," court documents show.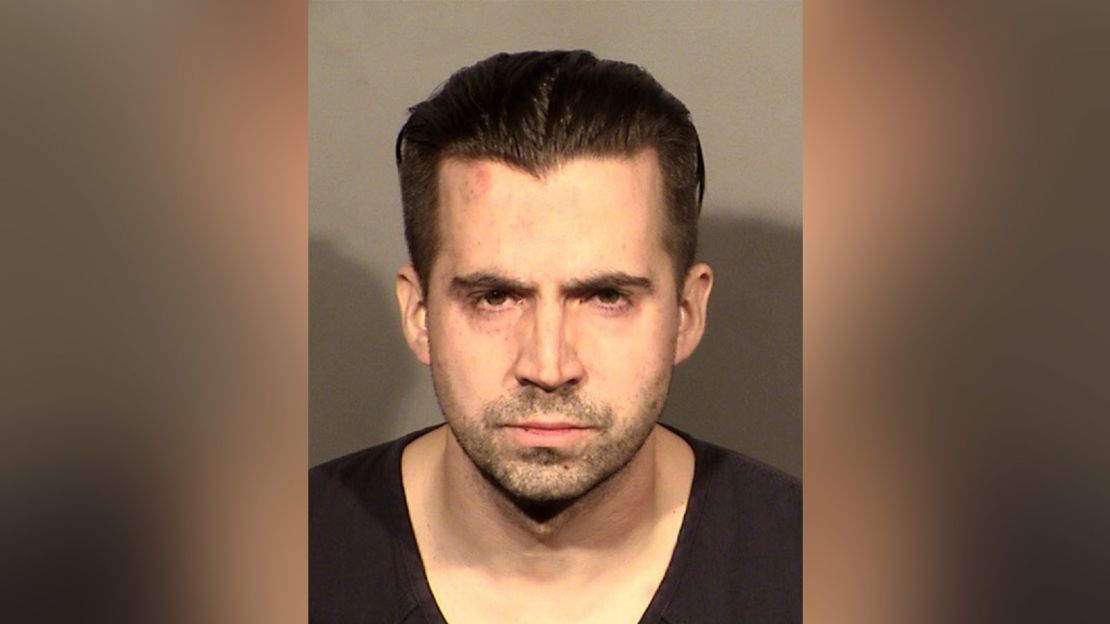 Officer Caleb Rogers on February 27, 2022, in a booking photo provided by the Las Vegas Metropolitan Police Department.
Las Vegas Metropolitan Police Department/AP
Security officers chased Rogers to a parking garage, where he pulled out a silver revolver and threatened to shoot as an officer tackled him. Police later learned Rogers had covered the gun's serial number with a yellow sticker, court documents show.
Officers said they noticed that Rogers had trouble running because of an apparent problem with his left leg, documents show.
Security officers disarmed Rogers and held him until Las Vegas police arrived. When officers checked the serial number of his .357 caliber firearm, they learned it belonged to the Las Vegas Metropolitan Police Department and had been checked out by Rogers during the time of the three robberies.
After Las Vegas Metropolitan Police took Rogers into custody, he identified himself with his officer number, court documents show.
Rogers was apparently seeking money to pay off debts
A subsequent search of Rogers' Las Vegas apartment revealed eviction notices and past-due notices, according to court documents – along with occupational injury forms from a knee injury he had sustained in 2019.
Prosecutors argued at his trial that Rogers had robbed the casinos to pay off debts he'd incurred as the result of a gambling addiction.
In July a federal jury found Rogers guilty of three counts of robbery and one count of brandishing a firearm during a crime.
He faced up to 20 years in prison on each robbery count and life imprisonment for the firearm conviction, but his attorney asked for leniency, citing Rogers' career as a law enforcement officer.
"While many of his peers chose career paths and lifestyles that served only themselves, Rogers opted for service in one of the most dangerous professions dedicated to protecting our society," the attorney, Richard Pocker, wrote in a sentencing memo.
Rogers' mother, Crystal G. Rogers, also pleaded for leniency.
"This is not the end of his story, and he has the ability to change the trajectory of what will define him," she wrote the judge before the sentencing. "These are dark hours for us all. But it is just that. I pray this is his season of change."
Pocker told CNN he's grateful that the judge considered Rogers' service as a police officer when determining the sentence.
He said he plans to appeal the convictions.
_________________


8DonCo





Thằng này dám cướp casinos thì coi chừng vào tù bị mấy dân anh chị thanh toán. Casinos toàn là run by mấy đứa mafia trộm cướp mà dám cướp tụi nó!


ga10





nợ nần quá làm liều, làm lần đầu thấy dễ dàng quá nên làm tiếp
_________________


8DonCo





Similar topics
---
Permissions in this forum:
You
cannot
reply to topics in this forum