Hundreds arrested in protests across Russia after announcement of partial mobilization, monitoring group says
From CNN's Tim Lister, Anna Chernova, Gianluca Mezzofiore and Anastasia Graham-Yooll in London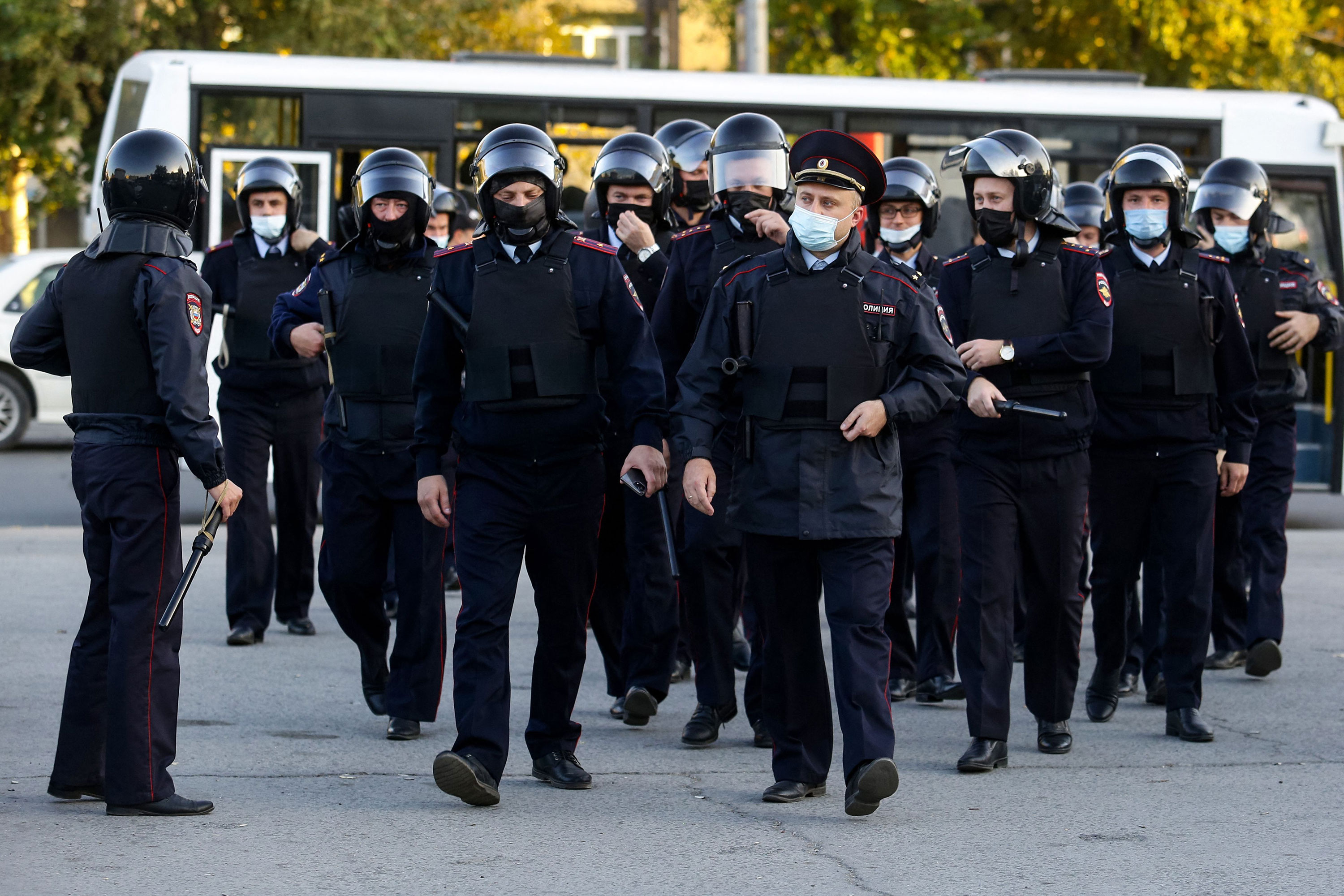 Police officers are deployed in central Novosibirsk, Russia on Wednesday. (Rostislav Netisov/AFP via Getty Images)


More than 500 people have been detained across Russia in a crackdown on anti-war protests across two dozen cities in Russia, according to the independent monitoring group OVD-Info. 
About 100 arrests were made at protests in St. Petersburg after President Vladimir Putin's announcement of a partial mobilization to increase the availability of troops for the war in Ukraine.
Photos released on OVD-Info's Telegram channel showed police in Saint Petersburg using batons against protesters. Videos show police attempting to contain a crowd gathering at Isakiivskiy Cathedral behind barriers, amid chants of "no mobilization."
Social media video geolocated by CNN showed protests in several cities, each involving what appear to have been a few dozen people.
Videos from Moscow showed protestors being carried away by the police at a demonstration in the center of the city.
One video posted by a journalist from the Moscow web publication The Village includes dozens of people in Arbatskaya street chanting "let him go" as one man is carried away.
There was also video from the city of Yekaterinburg of a struggle between police officers and protesters.
As of 8 p.m. Moscow time, 535 people had been detained in 30 cities across Russia, according to OVD-Info.
Arrests took place in Irkutsk and Krasnoyarsk, Yekaterinburg, Chelyabinsk, Novosibirsk, Ulan-Ude, Tomsk, Ufa, Perm, Belgorod and Moscow, according to the OVD-info tally.
Moscow prosecutor's office published a statement Wednesday warning citizens against participation in protests, threatening those with up to 15 years in jail.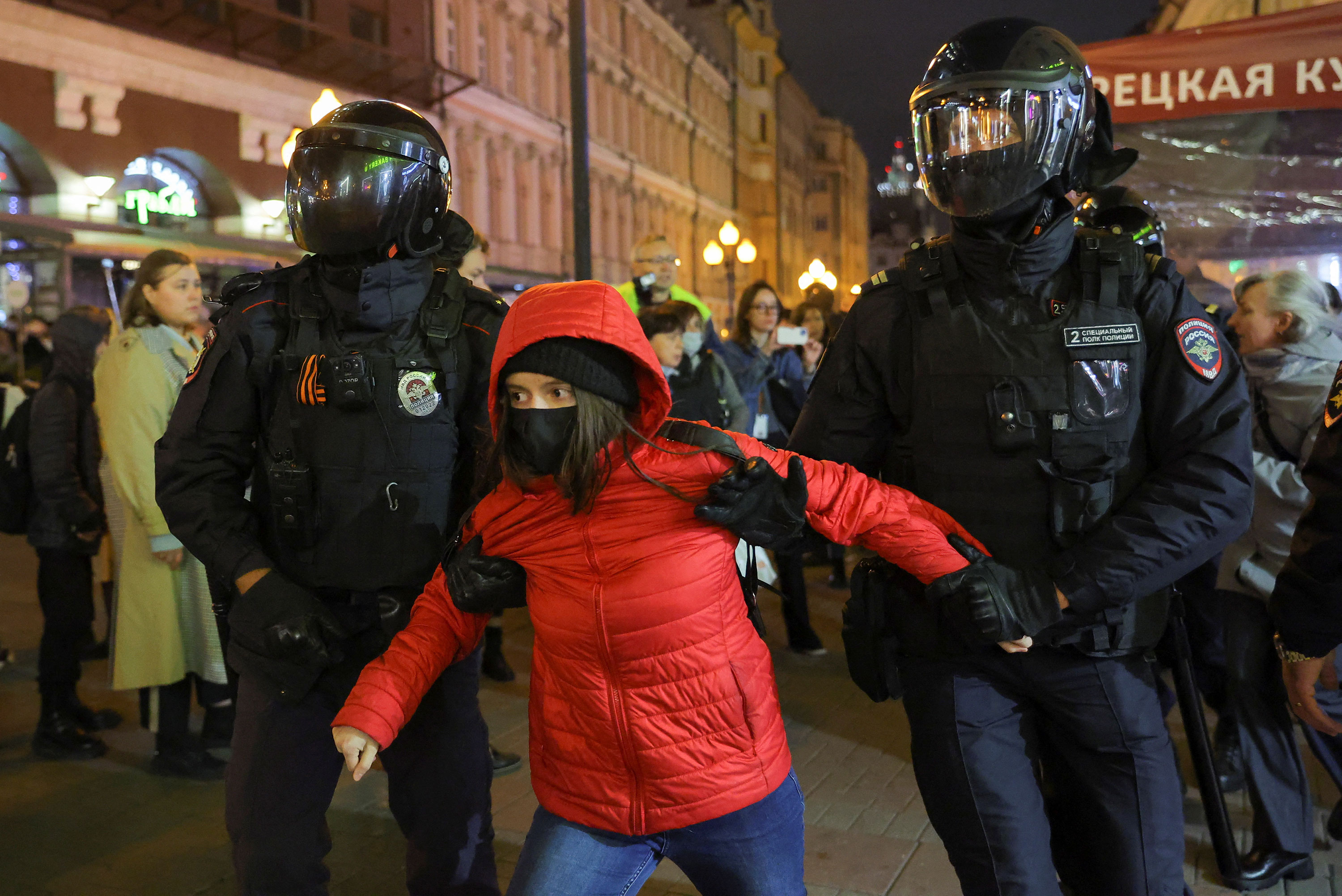 Russian police officers detain a person during a protest in Moscow on Wednesday. (Reuters)
_________________


8DonCo





biểu tình mà nó đòi bắt nhốt 15 năm, đúng là cộng sản mà


nhatrangdep





More protest more protest !


LoveStory08





Chạy chạy, 36 kế sách, tẩu là thuơng sách


_________________


8DonCo





Dân Nga dạo này đang chạy qua nước khác.
Có bao giờ chết nhiều quá, quân đội sợ chết lật ông Putin 0 nhỉ. Có điều mật vụ 0 chết nên quân đội 1 mình có làm nên lịch sử 0 nhỉ

_________________
Các ACE nào xài nhomcho.com nên đổi nhomcho.forummotion.com
vì trong tương lai nhomcho.com có thể EXPIRED và ACE không vào nhomcho được nữa


LDN





tinh thần quân đội kém lắm, giờ sợ thằng Putin nó khùng, nó ko thắng nổi bằng binh chiến, nó cứ đem nuke ra nó hù



Rice





---
Permissions in this forum:
You
cannot
reply to topics in this forum